Energy from renewable sources produced on-site in Long Beach. Toyota and Fuel Cell Energy share farsighted project
Tri-gen - that's how the plant is called - produces 2.3-megawatts of renewable electricity, to 1,200 kg/day of hydrogen and 1,400 gallons of water. It is located at Long Beach Port.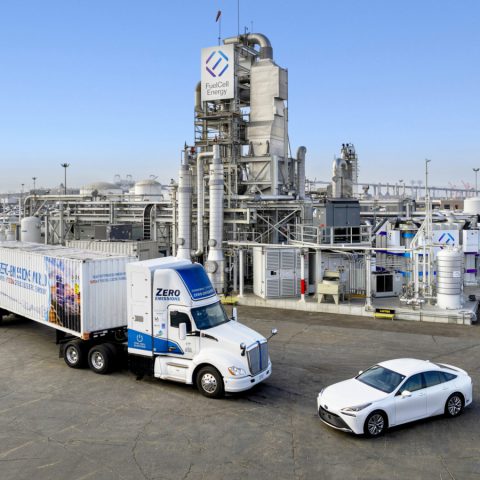 Toyota and partner Fuel Cell Energy have completed the so-called "Tri-gen" Production System, owned and operated by FuelCell Energy, which produces renewable electricity, renewable hydrogen, and water from directed biogas. The manufacturer has contracted with Toyota to supply the products of Tri-gen under a 20-year purchase agreement.
Tri-gen is an example of FuelCell Energy's ability to scale hydrogen-powered fuel cell technology, an increasingly important energy solution in the global effort to reduce carbon emissions. Tri-gen will enable Toyota Logistic Services (TLS) Long Beach to be the company's first port vehicle processing facility in the world powered by onsite-generated, 100 percent renewable energy and represents the types of innovative and bold investments the company is making as part of its environmental sustainability strategy.
Toyota and Fuel Cell Energy: what the Tri-gen plant can produce
Tri-gen produces 2.3-megawatts of renewable electricity, part of which will be off-taken by TLS Long Beach to support its operations at the port, which processes approximately 200,000 new Toyota and Lexus vehicles annually. Moreover, the FuelCell Energy Tri-gen system can produce up to 1,200 kg/day of hydrogen which will provide for TLS Long Beach's fueling needs for its incoming light-duty fuel cell electric vehicle (FCEV) Mirai.
Finally, 1,400 gallons of water will be co-produced per day from Tri-gen's hydrogen production process and will be used by TLS Long Beach for car wash operations for vehicles that come into port prior to customer delivery. This will help decrease the use of constrained local water supplies by approximately half a million gallons per year.
Potrebbe interessarti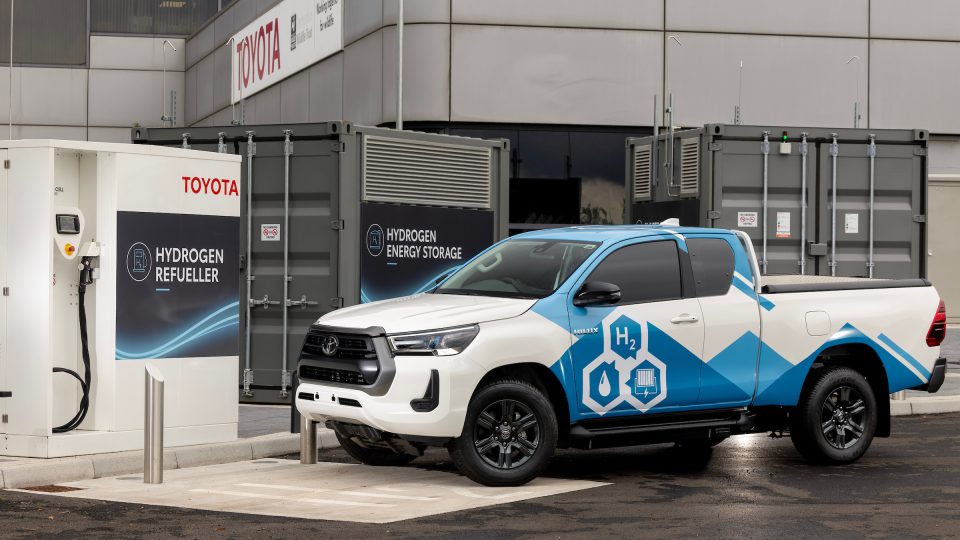 Hydrogen is stored in three high-pressure fuel tanks, giving the prototype Hilux an expected driving range of more than 600 km. The project, supported by UK Government funding, is shared with Ricardo.
Statements from the partners
"By utilizing only renewable hydrogen and electricity production, TLS Long Beach will blaze a trail for our company," said Chris Reynolds, Chief Administrative Officer, Toyota. "Working with FuelCell Energy, together we now have a world-class facility that will help Toyota achieve its carbon reduction efforts, and the great news is this real-world example can be duplicated in many parts of the globe."
FuelCell Energy CEO Jason Few added: "FuelCell Energy is committed to helping our customers surpass their clean energy objectives. By working with FuelCell Energy, Toyota is making a powerful statement that hydrogen-based energy is good for business, local communities, and the environment. We are extremely pleased to showcase the versatility and sophistication of our fuel cell technology and to play a role in supporting Toyota's environmental commitments."