Allison eGen Power e-axles, designed for electric trucks. Our interview with Alexander Schey
Why Allison and e-axles? «E-axles are very complex electro-mechanical systems, far closer to complex 6-speed or 9-speed transmissions. Here, Allison has a lot of experience and takes care of a huge amount of testing and validation to go through», answered Alexander Schey, Managing Director, Electrification Commercialization & Strategy at Allison.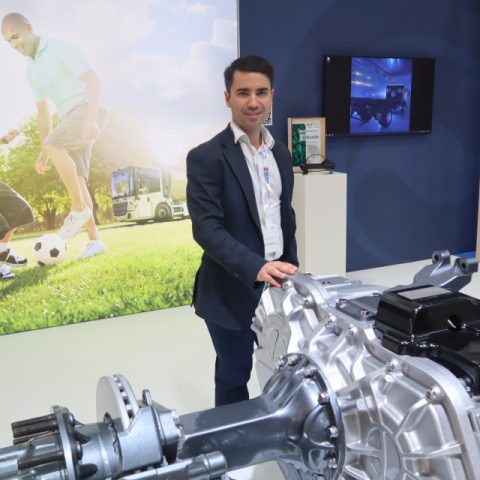 Allison eGen Power e-axles were on display at the last edition of IFAT, in Munich. There, we had the opportunity to meet Alexander Schey, Managing Director, Electrification Commercialization & Strategy at Allison and go deeper with him on such an innovative and promising technology for the future of trucks. "We're only scratching the surface of electrification", he told us, while chatting on the main features of the new Allison e-axle line, as well their possible applications and the evolution of the relationship with OEMs (the collaboration with Hino is only one example of it, now we know Allison is also working with Xos Trucks, for instance). Also, Allison participated in the webinar on e-axle development organized in June by Powertrain and Sustainable Truck&Van.
In front of the eGen Power 100D e-axle at IFAT
Here's what Alex Schey told us while standing in front of the eGen Power 100D (not the latest version of Allison e-axles, he pointed out, now developed with a slightly different shape, even though the architecture is quite identical). In this case, the D stands for "dual motor". We know that Allison's portfolio also includes the 100S version (single motor), as well as the 130D with higher payload and thicker legs for heavier applications.
Alex, can you please tell us how the e-axle works?
"One motor is on one side, another motor on the other side. They sum up on a central gear, which is spinning around in the middle. The 2-speed transmission is placed behind the central gear and behind that is the differential. The result is that have an incredibly high amount of power – nearly 650 kW peak – in a very compressed package. What we exhibit here is the equivalent power of a 15-liter diesel engine with the 4000-Series transmission and the driveshaft and the conventional axle, all on one".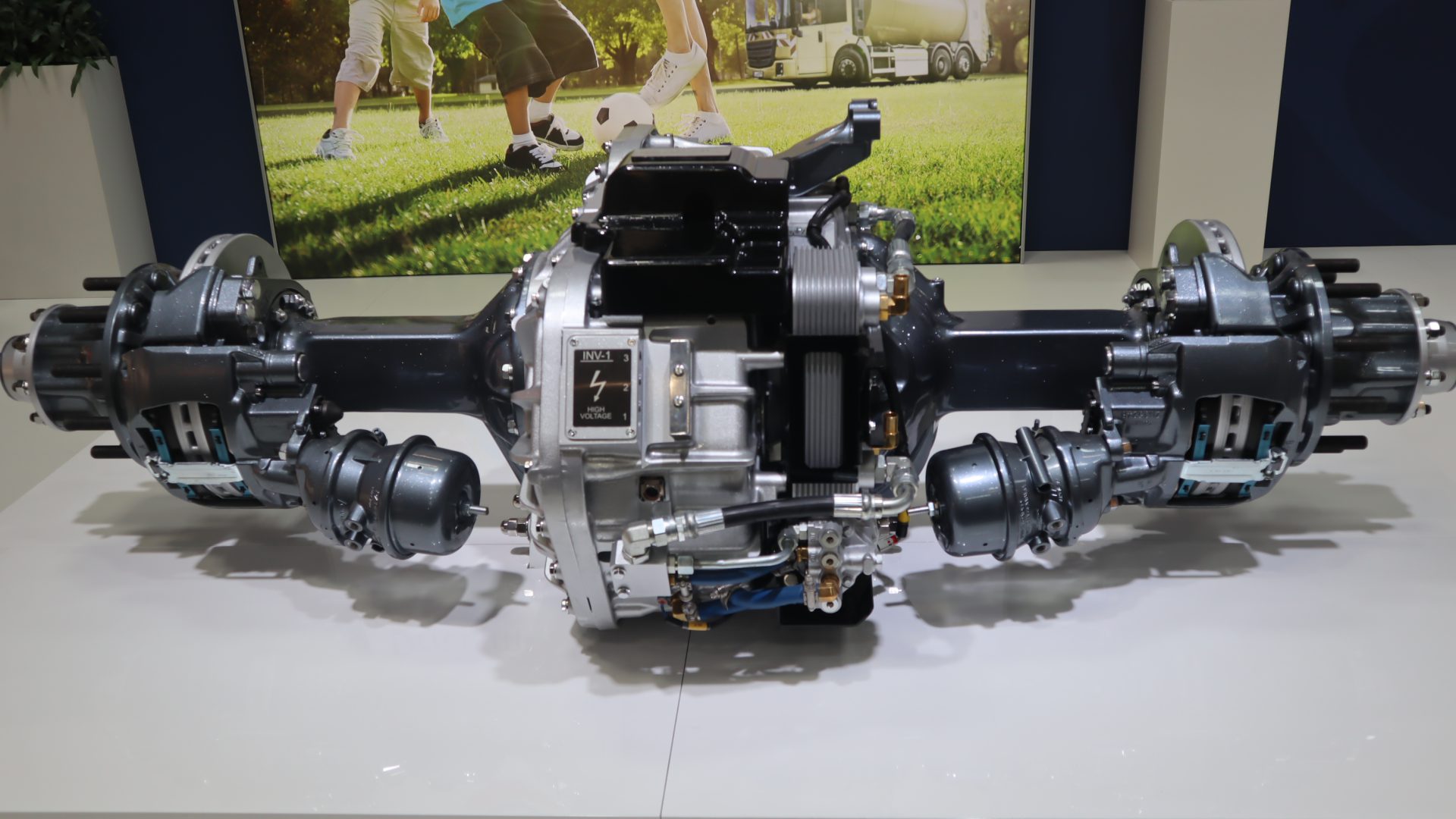 Why do you think this is a better solution compared to a conventional driveline?
"This makes it possible to save quite a lot of space for batteries and other key components, power electronics and so on. Also, the axle legs are made with different suspension systems. When we go to the 13-ton version, the legs are slightly thicker and we can alter those components without changing the central housing, which can remain identical in weight class. This is indeed a modular conception".
The acquisition of AxleTech as a starting point
Why (and when) Allison decided to invest in the development of e-axles?
"E-axles are very complex electro-mechanical systems. Here, Allison has a lot of experience in the field of transmissions. We have to consider that this system is far closer to a complex 6-speed or 9-speed transmission than is a conventional axle: we have lots of gearing, a transmission control module, which is based on the same hardware and software as our conventional program. Also, there is a huge amount of testing and validation you have to go through.
Allison acquired a company named AxleTech in April 2019. That company had already been developing electrical axles for 1-2 years. Allison put investments, people, expertise and so on and it's roughly three years now since we started developing this electrical axle".
Is there a matter of weight when it comes to the introduction of electrical axles?
"It's something manufacturers need to pay attention to, yes. This e-axle weighs 929 kg, heavier than a normal axle. We're not trying to break the laws of physics and this is a challenge. We are of course working through it in order to make it possibly lighter".
Allison and e-axles: learning by doing (with OEMs)
How is the relationships with OEMs changing with electrification?
"As an industry, we're just scratching the surface of electrification. All of us, we're new in the industry and OEMs and suppliers are still learning. So many new applications and technologies are being tested and validated. We need to work together much more closely now. we can say collaboration is higher compared to the past; it's more a partnership, indeed. Talking about engineering, one example I can mention refers to the integration with fuel cells, an area we're still learning, as well".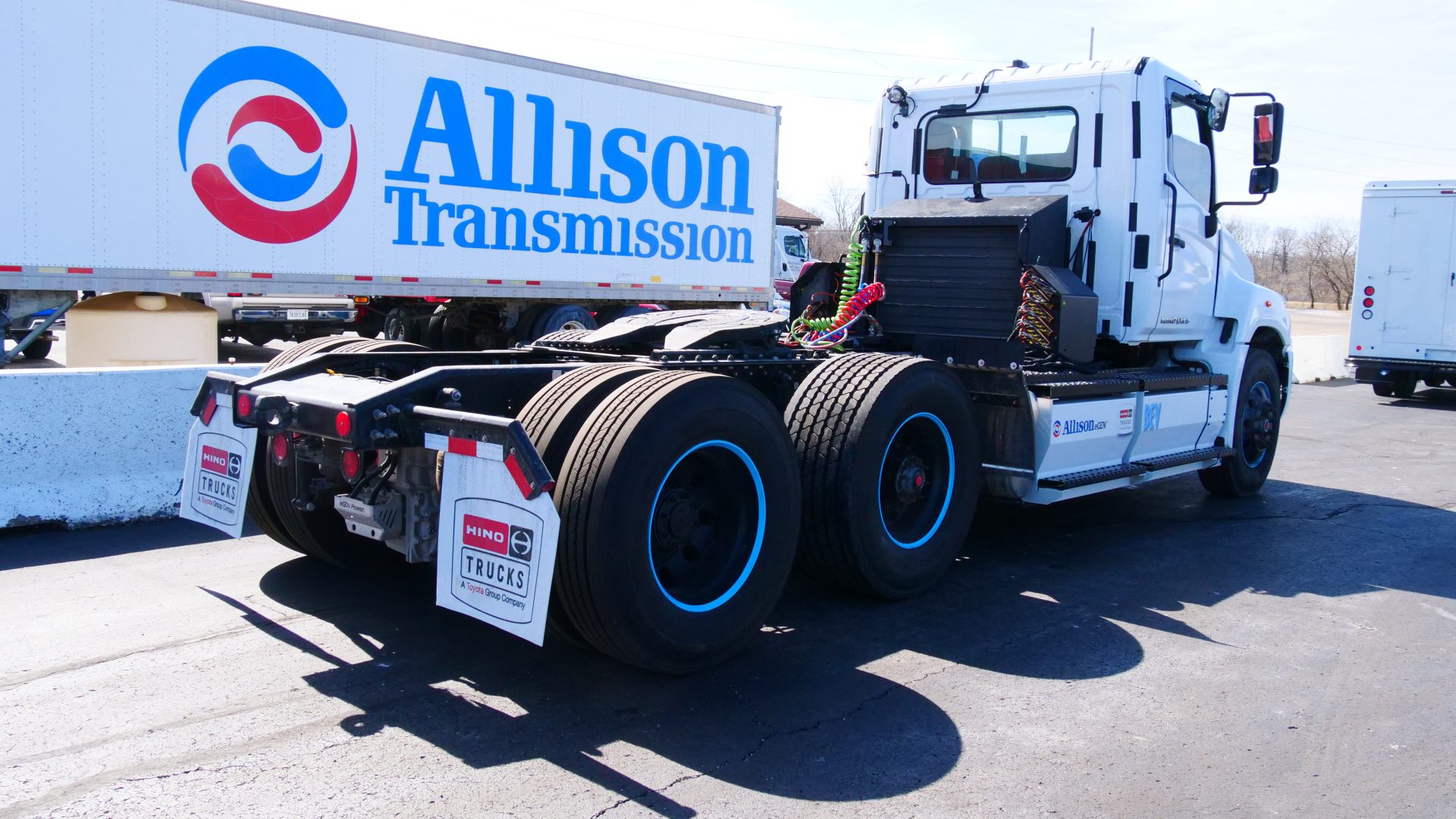 What are you talking about?
"When it's cold, battery packs can't be charged very quickly. That means that certain functionalities in the e-axle would change when it's cold versus when it's warm. A fuel cell vehicle with a small battery pack requires a different amount of power. As a consequence, how the e-axle regenerates itself would change accordingly. To get it fine-tuned with this kind of parameters is crucial and here we see a closer collaboration between OEMs and powertrain component suppliers".
We're only scratching the surface of electrification, you said…
"The technologies are there, but integrating them with all the other systems and with the infrastructure, service, aftermarket is all new and different. I give you another example. This e-axle does not require oil changes, it's filled for life. That's different and we need to validate that over the next 5-10 years. We at Allison have been able to carry out thousands of hours of tests in all the most challenging conditions. We will learn as we go through that journey".
Possible applications on electric trucks
Do you see these e-axles on distribution trucks? Long-haul ones?
"As far as we're concerned on the axle side, there's not a huge difference between the various types of trucks (short and long haul). Obviously, there's a very big difference in duty cycle and the application will affect calibrations on the control system and how the throttle map works. From a mechanical and electrical perspective, there's no big difference. Maybe when it comes to distribution trucks, a single motor solution may be more suitable, with different mechanical packaging for that".
What's going to happen in the near future?
"Our focus is on maturing our hardware and broadening out our product portfolio. We believe e-axles are the most efficient solutions in the heavy- and medium-duty range. In the lighter classes, there's more competition between electrical and conventional axles".