Daimler accelerates electric mobility push for cars, vans and trucks
Daimler AG is pressing ahead on the electric mobility with its structural realignment and the acceleration towards shifting to zero-emission cars, vans and trucks.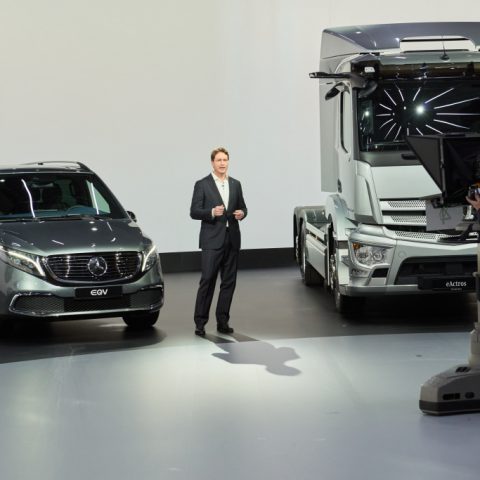 Daimler is pressing ahead with its structural realignment and the acceleration of a shift to electric mobility for its trucks and vans. «The year 2020 was the most challenging for Daimler during my term as Chairman of the Supervisory Board. We passed the pandemic stress test with flying colors, defined the necessary cost-cutting measures, and initiated their consistent implementation to make the company more crisis-proof. We also refocused our strategy on sustainability and climate protection. Our sustainable business strategy must strike a responsible balance between environmental, social and financial goals», said Manfred Bischoff, Chairman of the Supervisory Board of Daimler AG, at the company's virtual regular Annual Meeting held on March 31st. Bischoff has been Chairman of the Supervisory Board since 2007 and is stepping down after the Annual Meeting.
Daimler: a full range of electric mobility vehicles
This year, Mercedes-Benz Cars is significantly expanding its offering of fully electric mobility vehicles: the compact electric model EQA will be followed shortly by the EQS and the EQB as well as the EQE later this year. Also, Mercedes-Benz Vans will enrich the portfolio with electric vehicles: before the end of the year concepts for an electrified Citan and the T-Class will be presented. Daimler Trucks & Buses is also focusing on CO2-neutral passenger and goods transportation: Series production of the eActros, which has a range of well over 200 kilometers and is suitable for urban heavy goods and distribution transport, will start in fall this year. For longer distances with a range of about 500 kilometers, the eActros LongHaul is being developed for market launch as of 2024. In addition, fuel-cell trucks are scheduled to go into series production in the second half of the decade. With the buses, the eCitaro and the articulated eCitaro are two vehicles already available for CO2-neutral urban transport.
Three million public charging points to boost e-mobility in Europe
«Today, Daimler has the broadest electric mobility range in the automotive industry – from city cars to heavy-duty trucks. But that's not enough for us. We want to accelerate the electrification of our product portfolio. Almost two years ago, we presented our Ambition2039. We want a CO2-neutral fleet of new cars. It's our goal to reach this target sooner», said Ola Källenius, Chairman of the Board of Management of Daimler AG and of Mercedes-Benz AG. A prerequisite for the breakthrough of electric mobility is an efficient public charging infrastructure which expands to keep pace with the electric ramp-up of manufacturers. To meet the European Commission's CO2 targets, Europe needs three million public charging points by the end of the decade. «Today, we don't even have a tenth of this. We need to speed this up. Daimler, as part of the auto industry, will play its part. For example, we will further expand the Ionity charging network. I am convinced: When industry and politics work hand in hand, we move forward together. We should not focus our efforts only on banning the status quo. We should make possible the new, this is key», said Källenius.
Daimler intends to spin off Daimler Trucks
In order to utilize the full potential of the two industrial divisions during the industrial transformation and to create sustainable value, in February 2021 the Board of Management and Supervisory Board decided to initiate a fundamental change to the Group's structure: Daimler intends to spin off Daimler Truck and list it on the stock exchange. It is planned to transfer a significant majority stake in Daimler Truck to the Daimler shareholders.
«With a clear focus on commercial vehicles on one side, premium cars and vans on the other, we are creating the preconditions for more financially successful companies and thus also offer enhanced long-term job security. It is a matter of fact that the transformation of the automotive industry more than ever requires speed and an undivided focus on innovation», said Bischoff. The transaction and the listing of Daimler Truck on the Frankfurt Stock Exchange are expected to be completed by the end of 2021. It is also intended to rename Daimler as Mercedes-Benz in due course. The planned spin-off will be under voting at an Extraordinary Shareholder's Meeting which is planned to take place in fall of 2021.