IVECO invests one billion euro in model year 2024. Electric range enhanced with the S-eWay BEV
IVECO renews its entire range: from the Way to the Eurocargo to the Daily, also adding heavy-duty electric trucks, a legacy of the former joint venture with Nikola. But the long-haul of the future won't be done with BEVs, according to the manufacturer. Here's what we saw at the global launch event in Barcelona.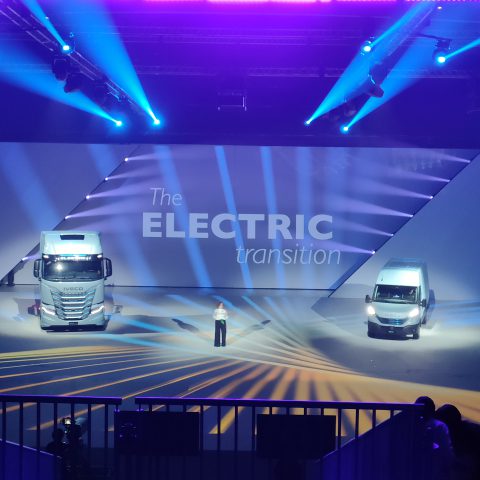 IVECO invests a billion euro to renew its entire range (also electric) ahead of a 2024 that promises to be both complex and full of challenges. So much was said, so much was revealed at the launch event that took us to Barcelona for two days. Above all, the Italian manufacturer unveiled the models for a challenging 2024, which will be marked by the entry into force of the General Safety Regulation and will at the same time be very important for understanding what direction the energy transition in trucking will take.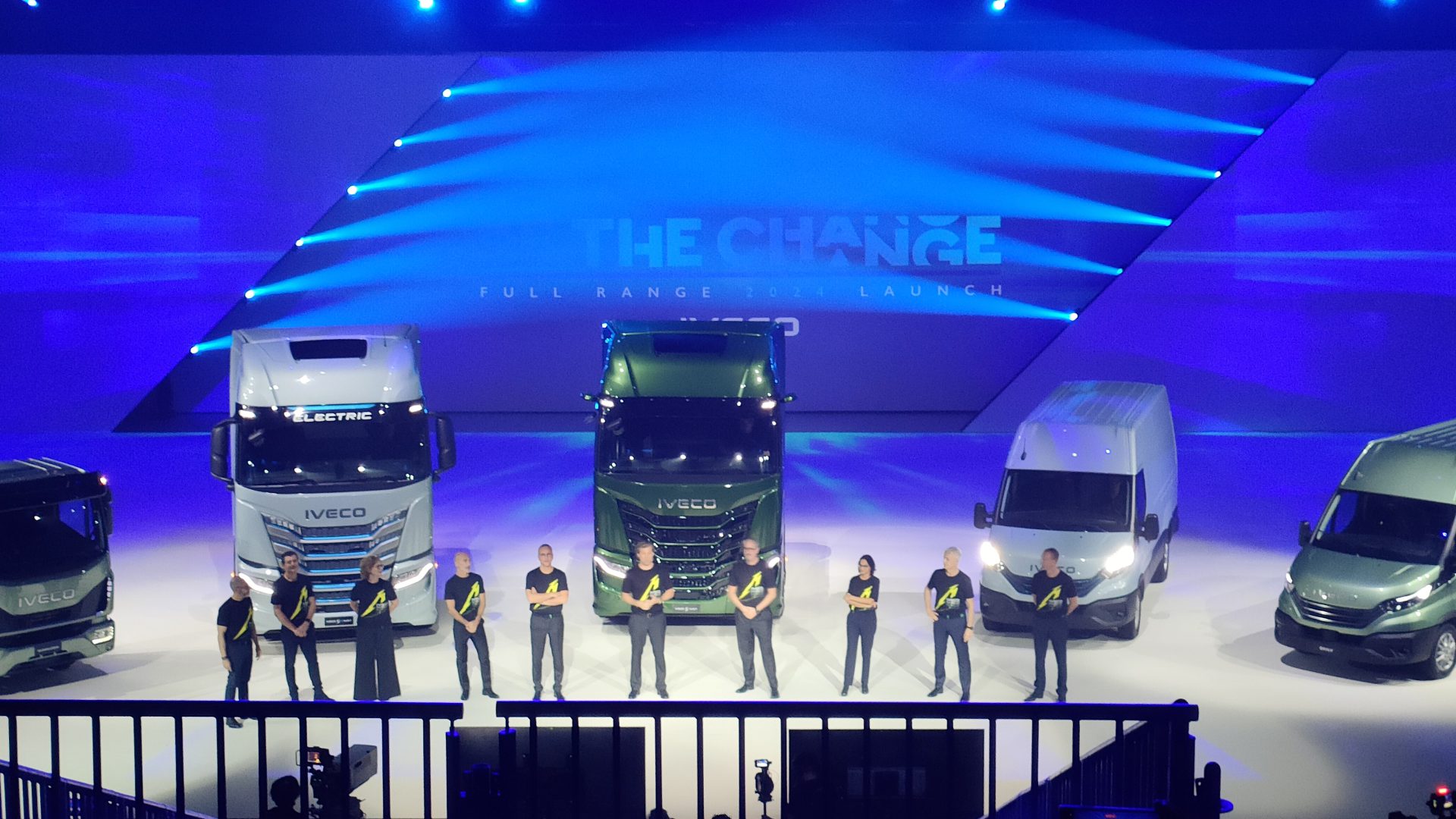 IVECO expands the possibilities available to customers by adding BEV versions to the ICE versions of its trucks and commercial vehicles. And while much has been said and written about the electrified Daily – officially presented at the IAA 2022 -, electric road tractors were officially launched right in Barcelona: the S-eWay (this is the truck new name) the result of the joint venture shared with Nikola. Available starting next year, they will be produced in Ulm with batteries supplied by Proterra (yes, the same one recently acquired by Volvo) and Fpt e-axle. What is most striking is that, while waiting to be able to talk concretely about hydrogen, IVECO says clearly and without equivocation that, at the moment, full electric is not a viable solution for the long haul: for long distances, in fact, the reference solution as an alternative to diesel remains gas, possibly in its 'bio' declination.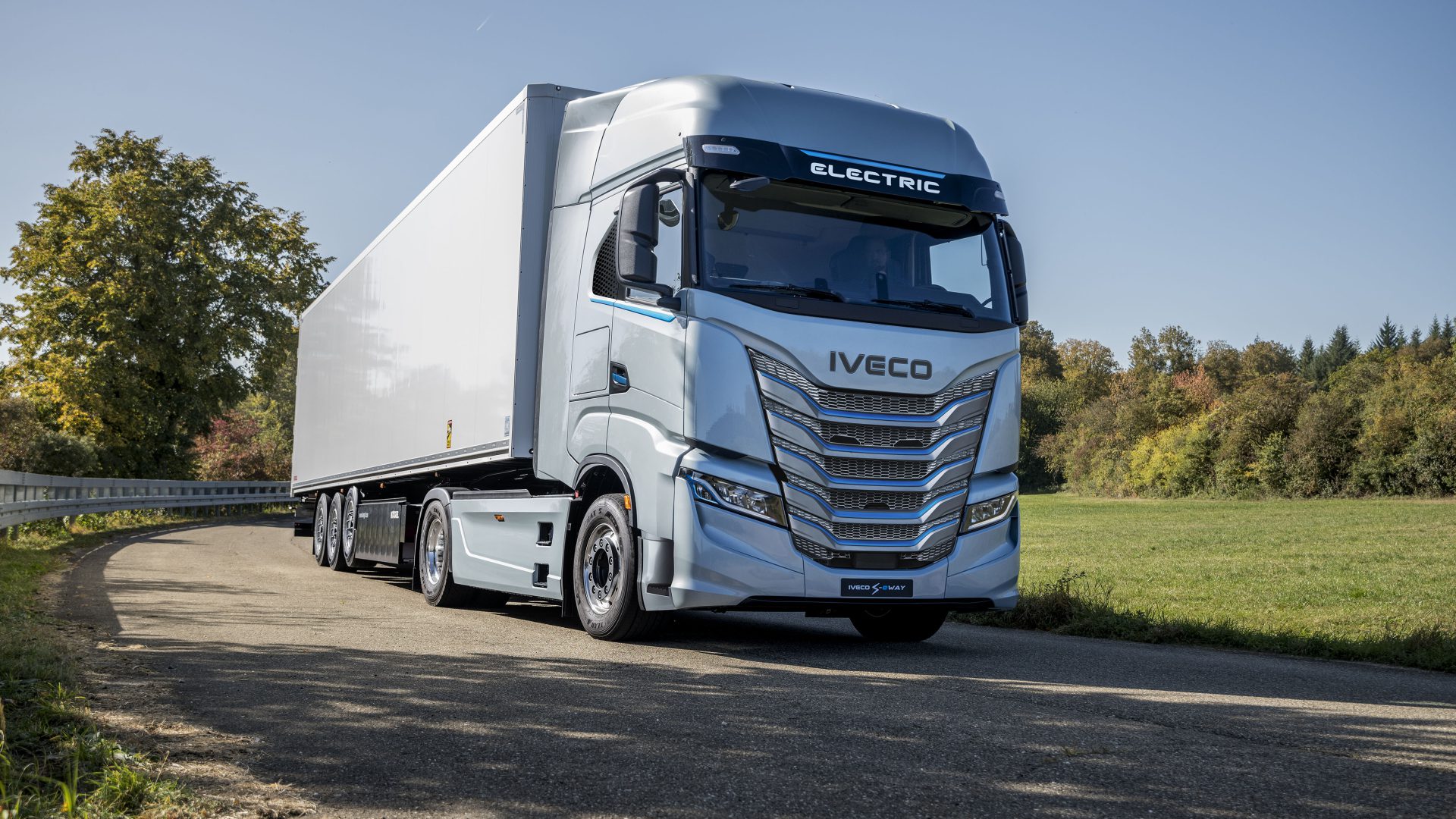 As for the heavy-duty ICE trucks, the all-new FPT Industrial XCursor 13 multi-fuel engine on the profoundly upgraded MY24 S-Way heavy-duty truck is the latest creation of the Cursor engine since it was first introduced on the market back in the 90's; the new S-Way offers fuel savings of up to 10% in diesel and gas and, if run on bio-liquefied natural gas, it can completely eliminate CO2 emissions in a well-to-wheel cycle.
IVECO full electric range officially unveiled
Back to the electric IVECO trucks, the eDaily now has a range of up to 400 km in urban real-world usage, and 20 minutes of rapid charging delivers 100 km of autonomy. The S-eWay is the first electric-born software distinctive heavy-duty truck engineered and manufactured by IVECO; it offers a range of up to 500 km under full load and normal working conditions, with 80% recharging in 90 minutes at 350kW of rapid charging.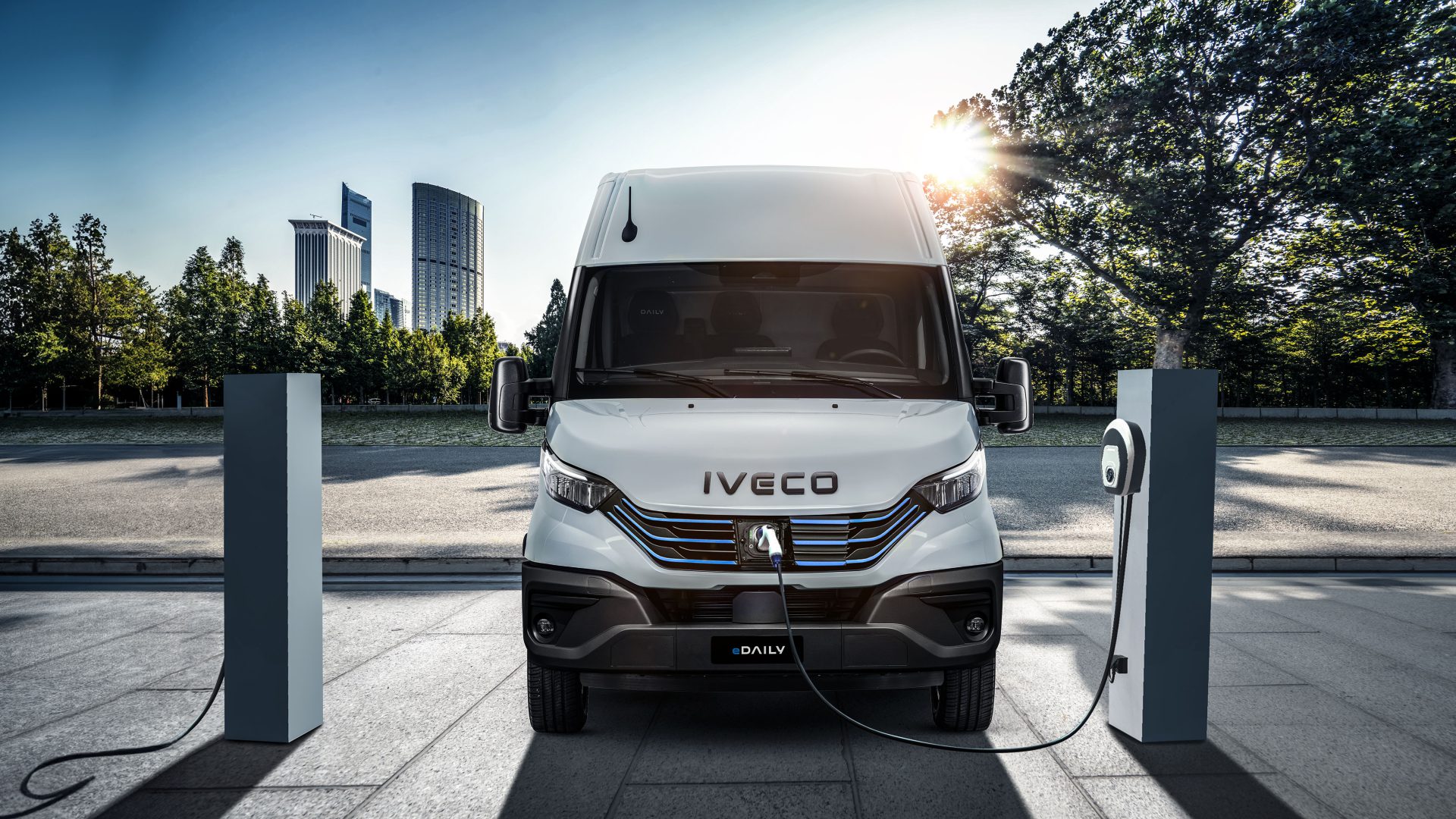 Connectivity is a key feature that is now standard on all models and versions in the new range for real-time tracking and fleet management. IVECO offers a comprehensive portfolio of telematic services based on Artificial Intelligence algorithms – such as predictive functionalities, route optimisation, driving style evaluation, etc. – developed to improve the productivity and profitability of customers' businesses. These services can add an extra 4% efficiency to a vehicle. Today, around 100,000 IVECO vehicles are connected, and the ambition is to reach half a million by 2030.
Safety system and refreshed logo
Safety remains a priority as well. Various Advanced Driver Assistance Systems (ADAS) – such as a blind spot warning information system, driver drowsiness attention warning and traffic jam assist – have been incorporated in the new range to enhance safety in and around the vehicle, extending beyond regulatory requirements, with protection for vulnerable road users.
IVECO marked the opening of this new chapter in its history with the unveiling of a refreshed logo that embodies the concept of "pulse of change". The logo stands tall in black to reflect the brand's dynamism and innovation, while maintaining a proud link with its history, and the blue "flash of light" in the centre points to the brand's new energy future.
From heavy-duty to heavy metal: the collaboration with Metallica
To close the launch event, a special announcement was made about a partnership between IVECO and rock legends Metallica. IVECO will support Metallica during the European leg of their M72 World Tour, running from May to July 2024, with electric and natural gas trucks accompanying the band across various locations, and IVECO electric and gas minibuses serving as shuttles during the concerts.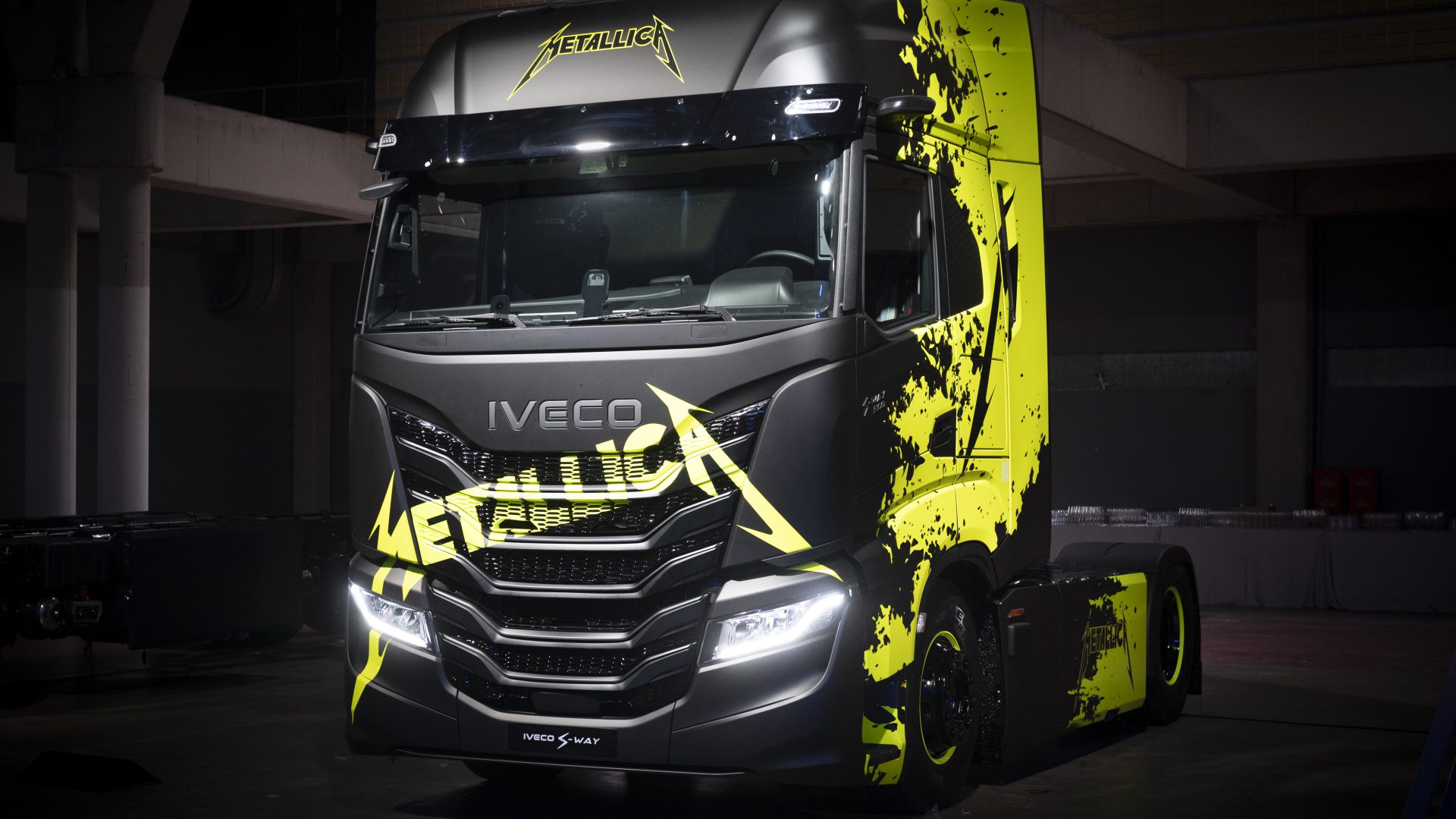 "Today, we are opening a new chapter with the Model Year 2024 full range, which demonstrates our ability to 'be the change'. Remaining true to our nature of 'humble fighters and fearless creators', we support our customers with a 360° mobility ecosystem, a choice of technologies that best suits their needs across all segments, and one of the most advanced and extensive service offers on the market. Bolstered by nearly 50 years of history, this launch is truly electric both for our cutting-edge e-trucks and e-vans, and for the energy that the entire IVECO team is putting behind driving the road of change", commented Luca Sra, President, Truck Business Unit, Iveco Group.