«Our electric axles aren't for heavy-duty vehicles only». Interview with Andrea Abbà (FPT Industrial)
The one FPT has introduced so faran axle with two electric motors, one speed, with a gear ratio that can deliver up to 840 kW of peak power (420 for each motor) and a torque of 900 Nm. The prototype of an e-axle designed for LCVs was on display at CES 2022. Some more automotive applications will follow.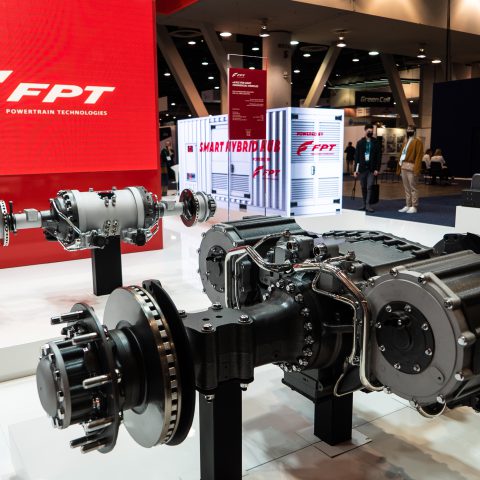 FPT Industrial is (and will be) a primary player in electric axles development and manufacturing. Everything started with the joint venture with Nikola, with the very first e-axles already hitting the road in the U.S. However, several market opportunities have been identified by the powertrain component manufacturer based in Turin, Italy. So far, what's on the table (and officially introduced at the beginning of this year at CES, Las Vegas) is the axle for 4×2/6×2 heavy vehicles with 44 tonnes gross vehicle weight. Some technical insights: 840 kW of peak power and efficiency above 92 percent. We've had the opportunity to discuss about this product and further technological developments with Andrea Abbà, On-Road Product Manager at FPT Industrial.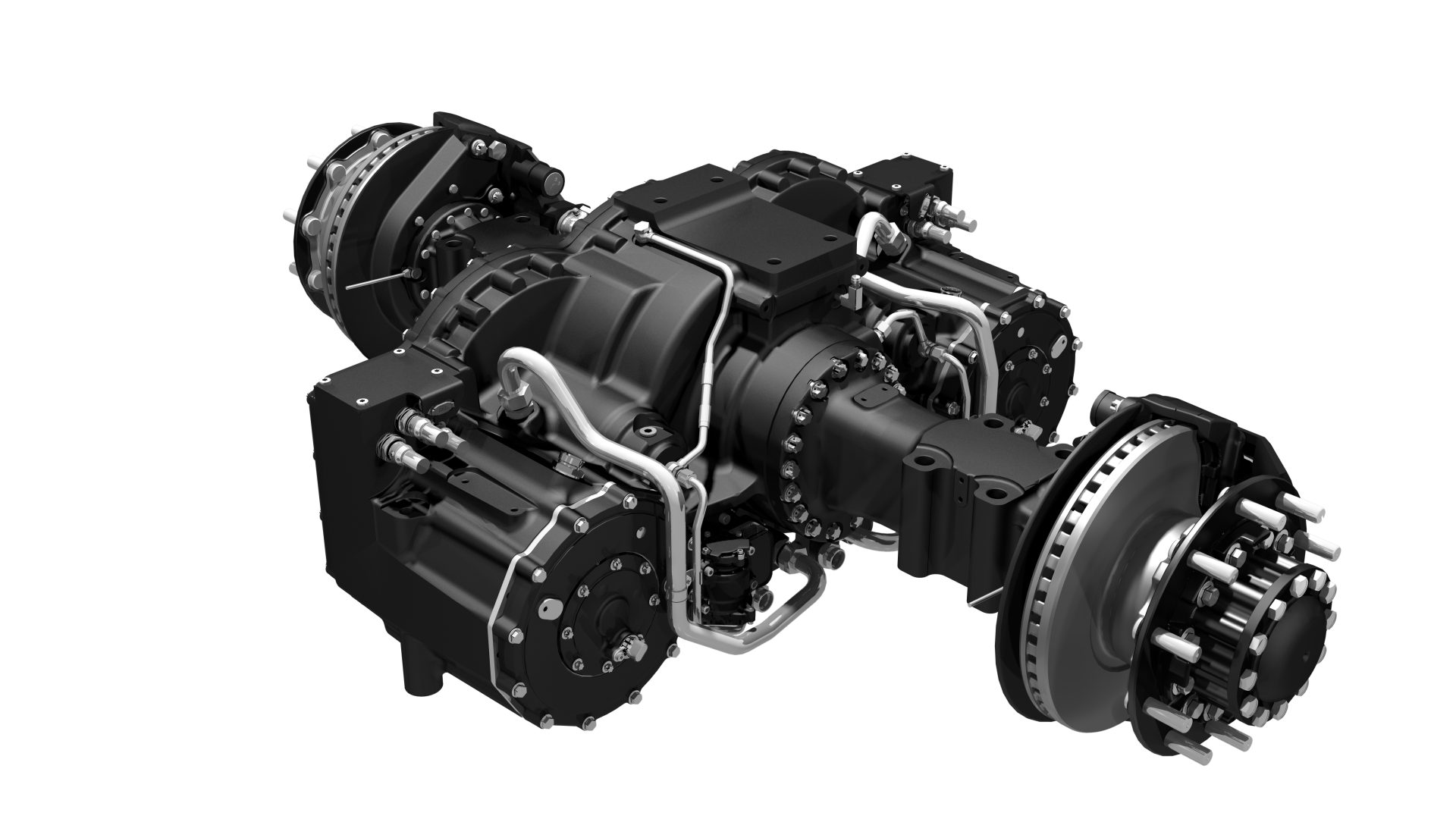 Electric axles from FPT Industrial: the very beginning
What's the story behind the development and creation of the electric axle introduced in January for the Nikola Tre BEV?
«I'd say this e-axle for heavy applications was born from the Nikola-Iveco joint venture announced in September 2019. So, it's a project that was co-developed with Nikola themselves. We presented it at our booth's On-Road innovation area at CES in Las Vegas. The first vehicles fitted with our axles hit North America's roads at the end of 2021».
What do you mean by co-developed by FPT and Nikola?
«The idea was that development and design would be taken care of by FPT Industrial. Nikola, on their part, would come to rescue with identifying the demands and target segments of the North American market».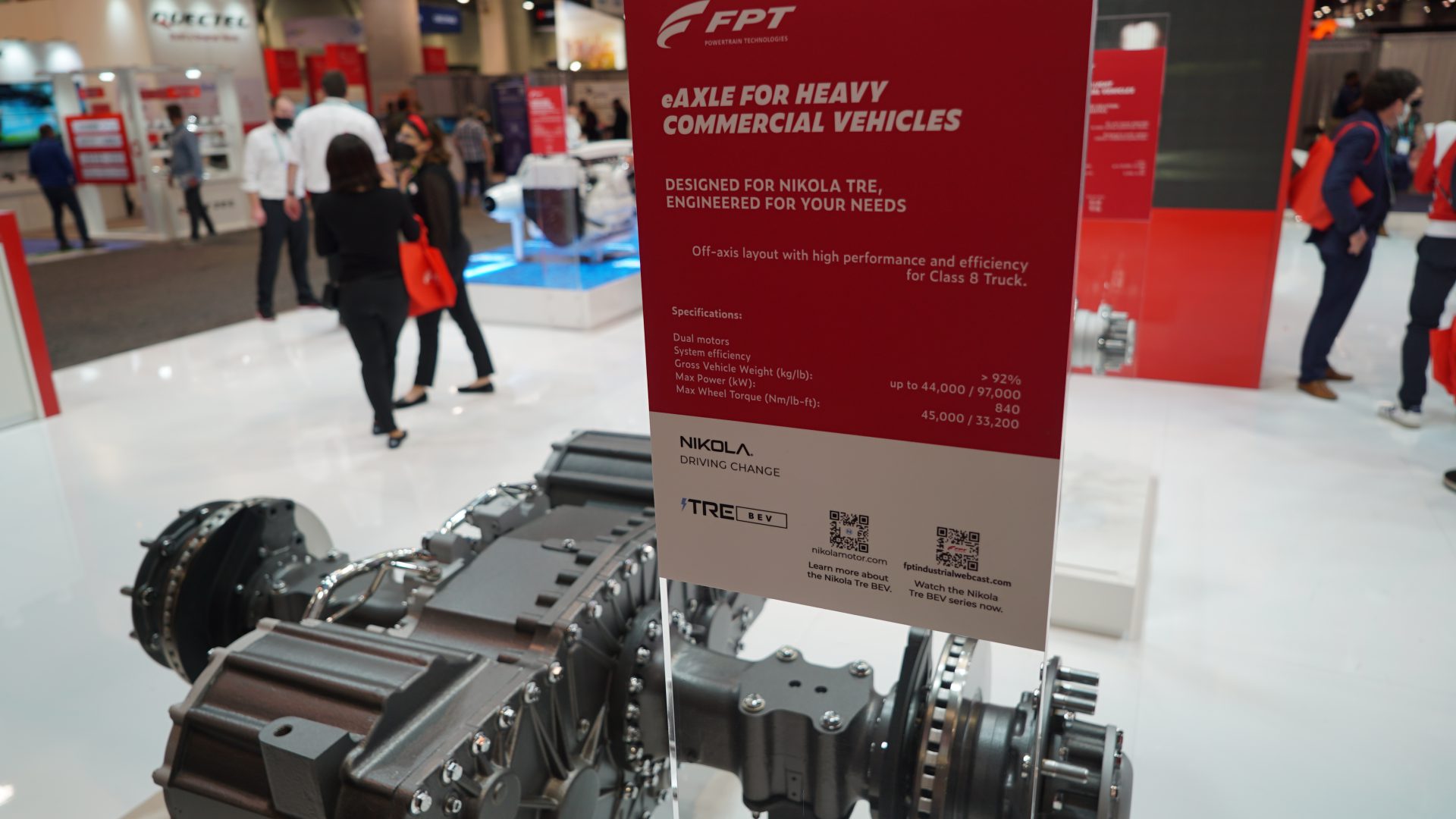 How do you diversify a product such as an electrified heavy vehicle – that's more or less still 'untouched' – to meet the demands of the American and European markets?
«We modified the axle's gear ratio using two different ratios to meet specific performance requirements. Then, we adjusted the electrified axle's output to meet the different needs of the European and North American markets».
A quick technical snapshot
Could you please provide a quick technical snapshot of the axle?
«It's an axle with two electric motors, one speed, with a gear ratio that can deliver up to 840 kW of peak power (420 for each motor) and a torque of 900 Nm. The max axle load is 13 tonnes. It is used on vehicles with a gross vehicle weight of 44 tonnes.
The guaranteed life of the axle and of the powertrain at large is the same as with IC engines – i.e. about 1,200,000 km. We made sure we would provide our customers with an actual benefit».
Is there any difference in using the axle with fuel cell vehicles – hence with the FCEV version of the Nikola Tre?
«There's no substantial difference. The driveline has remained quite the same. There's a different power source, though, a battery in one case and a fuel cell – albeit matched to a battery for peak loads – in the other. We might say the difference lies in the power source, although the axle is exactly the same. The truck's layout, too, needs no modifications».
Electric axles vs conventional axles
What's the difference vs conventional axles and what niches does it address?
«We've tackled heavy vehicles so far but we can broaden the range of interest to include other applications. At CES, for instance, we presented a prototype for light commercial vehicles and pick-ups. We also address other automotive niches, which can't be done with conventional axles and this allows us to broaden the scope of applications we can accommodate.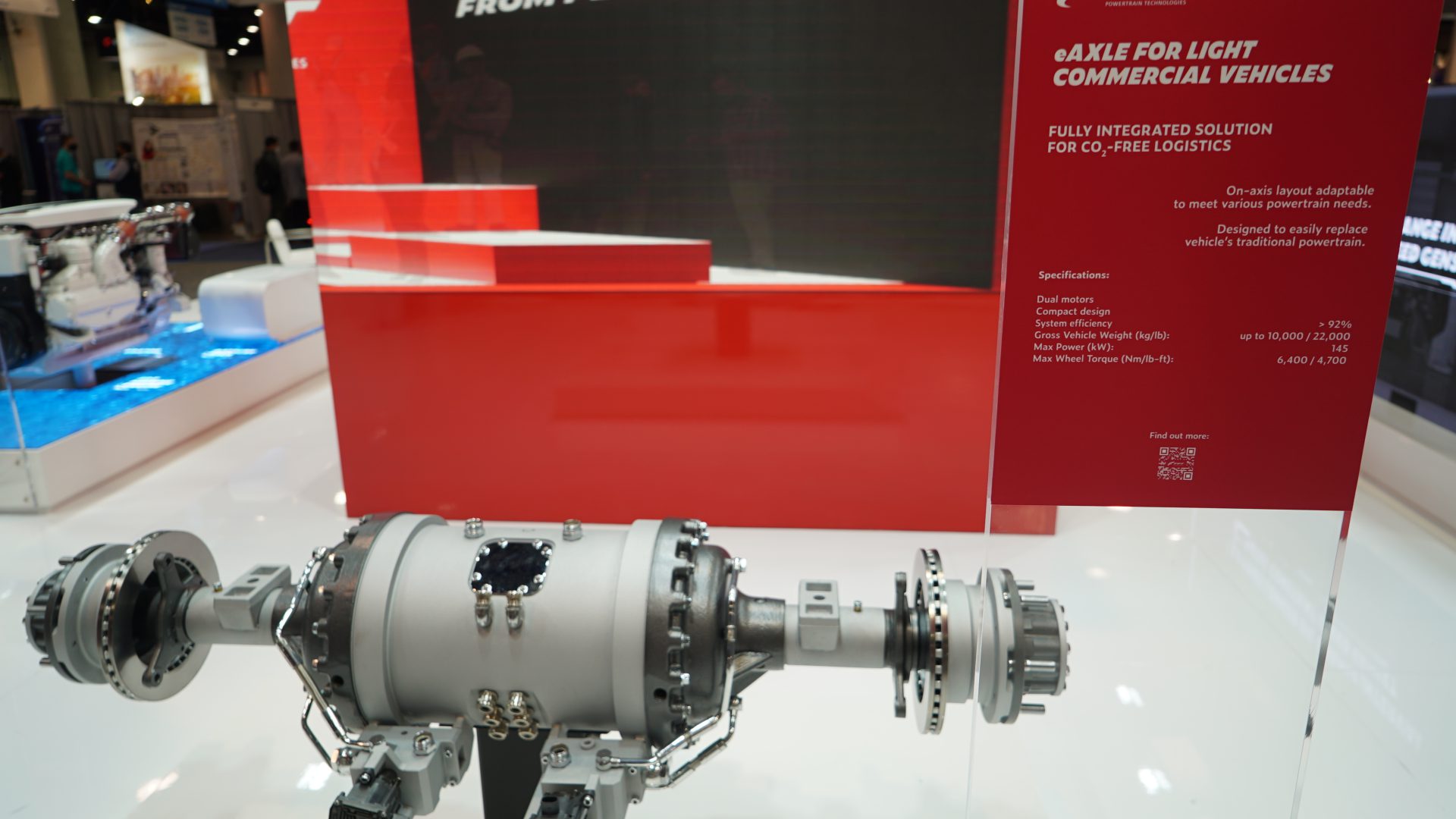 The specs for heavy vehicle axles are the ones just mentioned: max bearable load up to 13 tonnes and a gross vehicle weight of 44 tonnes. The light vehicle axle can withstand up to 7 tonnes and a gross vehicle weight of up to 10 tonnes.
Light vehicle axles are different in that they feature two coaxial motors, while those for heavy vehicles have an off-axis setup».
Where does FPT fit in this specific market niche with its electric axle offer?
«We're in the early stage of heavy vehicle electrification. What we're seeing is certainly that the layout is evolving. The first vehicles launched on the market featured a central drive, an adapted version of the existing layout with features of standard axles. They did not use an integrated axle like ours. We kept ahead of the game by launching a solution that will become widespread on the market in a few years».
Is FPT aiming to be a supplier of e-axles also on the free market?
«As with our IC engines, our aim is to put our know-how at the service of non-captive customers. In the engine world, for example, we are suppliers of the Daimler Truck group. We're looking for OEMs that may range from big manufacturers to small start-ups».