Mercedes-Benz eActros ready for serial production, starting from Autumn 2021
From autumn 2021, the series production model will be produced in Mercedes-Benz Trucks' largest truck assembly plant in Wörth am Rhein within a newly-manufactured assembly line. At the technological heart of the eActros is the drive unit with two integrated electric motors along with a two-speed transmission.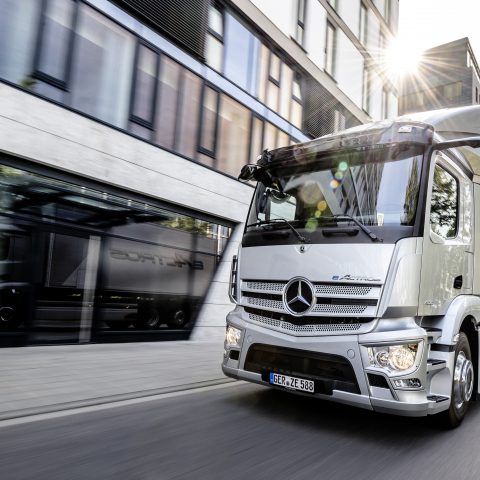 With a world premiere addressed to the international press, Mercedes-Benz provided a primary update about the BEV eActros, the first electric truck for heavy-duty distribution haulage to be produced by the German manufacturer.
Practical testing of ten eActros prototypes in co-operation with customers in Germany and other European countries began in 2018. From autumn 2021, the series production model will be produced in Mercedes-Benz Trucks' largest truck assembly plant in Wörth am Rhein within a newly-manufactured assembly line. In an initial phase the series-production model of the eActros will be available in Germany, Austria, Switzerland, Italy, Spain, France, the Netherlands, Belgium, Great Britain, Denmark, Norway and Sweden. Further markets will follow.
«We have to acknowledge that transport is a part of the problem when it comes to climate change», said Karin Rådström, Member of the Board of Management at Daimler Truck and responsible for Mercedes-Benz Trucks, hosting the event. «We start with our eActros that has covered more than half a million kilometers on public roads. The eActros and its dedicated services are a big step for Mercedes-Benz Trucks and for our customers towards CO2-neutral transport».
Mercedes-Benz eActros: eConsulting and charging partners
As pointed out during the presentation, the long testing phase carried out in collaboration with customers provided Mercedes-Benz with remarkable hints by both drivers and logistics operators. One of the main hints dealt with the need to assist haulage companies step-by-step as they switch to electromobility. That's why Mercedes-Benz Trucks has incorporated the eActros into a comprehensive system which includes consultant and service products for customers and in turn the best possible vehicle utilisation, optimisation of total costs and the setting-up of a charging infrastructure.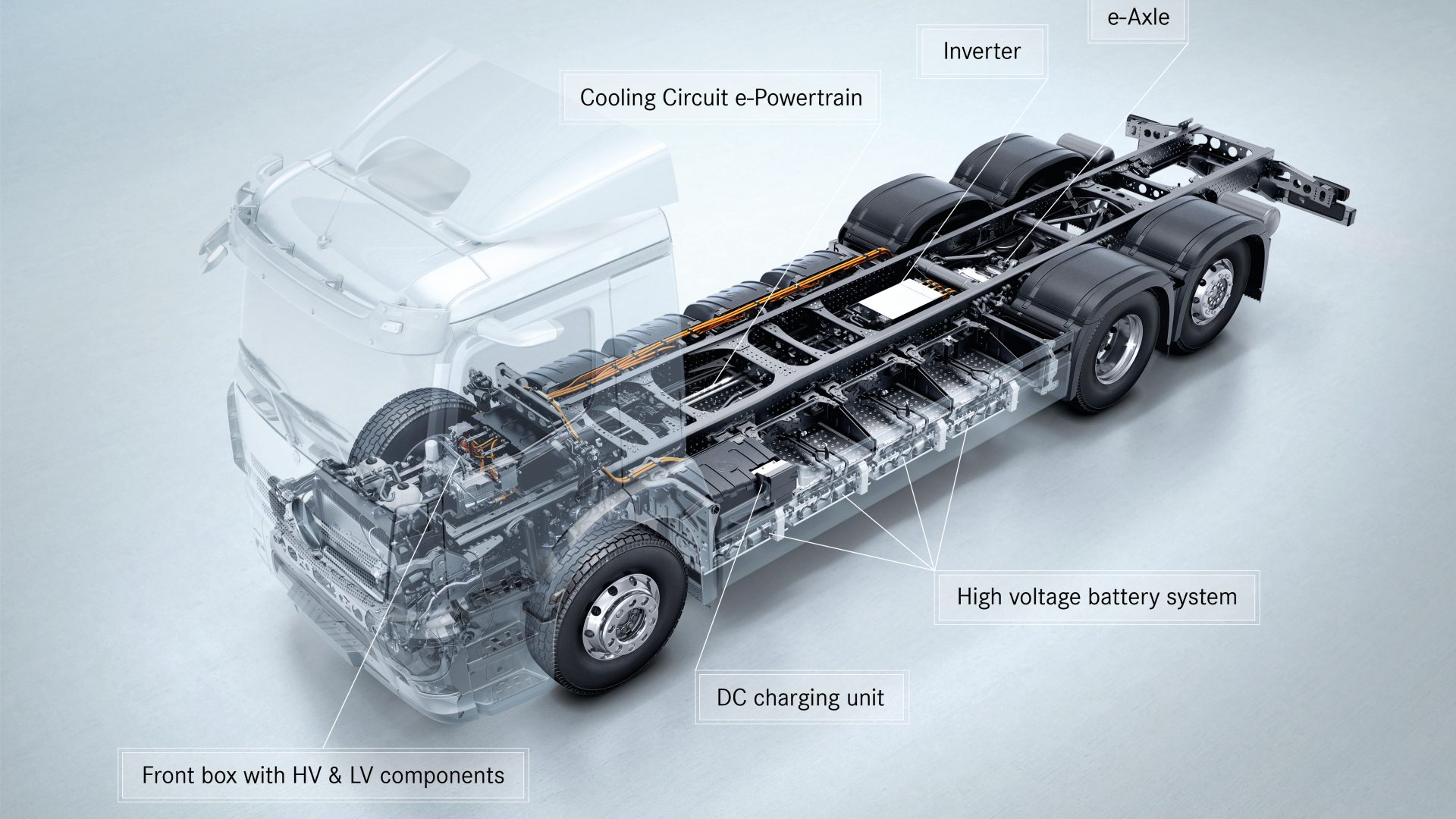 This so-called eConsulting doesn't just include electrification of the depot, but – if the customer desires – also covers questions concerning planning, applying for and implementing everything to do with the charging infrastructure and connection to the electricity network. To this end, Mercedes-Benz Trucks has also established a strategic partnership with Siemens Smart Infrastructure, ENGIE and EVBox Group.
Development of the eActros focused on the partnership with our customers. Compared with the prototypes, several features such as range, drive power and safety have been considerably improved in the series-production model

Andreas von Wallfeld, Head of Sales & Marketing at Mercedes-Benz Trucks
Integrated electric motors, power and charging time
A lot of curiosity of course arose from the technological heart of the eActros, that is to say the drive unit with two integrated electric motors along with a two-speed transmission. «Both motors provide for impressive ride comfort and great vehicle dynamics, while the quiet and emission-free electric drive means the truck can also be used for night deliveries and entry into inner-cities with driving bans for diesel vehicles», stated Mercedes-Benz Trucks.
The two motors are positioned centrally on the rear axle where they generate a continuous output of 330 kW and a peak performance of 400 kW. The immediate provision of torque by the electric motors coupled with the two-speed transmission ensures powerful acceleration, impressive driving comfort and driving dynamics which enable more relaxed, low-stress driving than a conventional diesel-powered truck. In full-load operations, drivers enjoy a relaxing noise reduction of 10 dB inside the cab, which roughly corresponds to a halving of perceptible noise volume.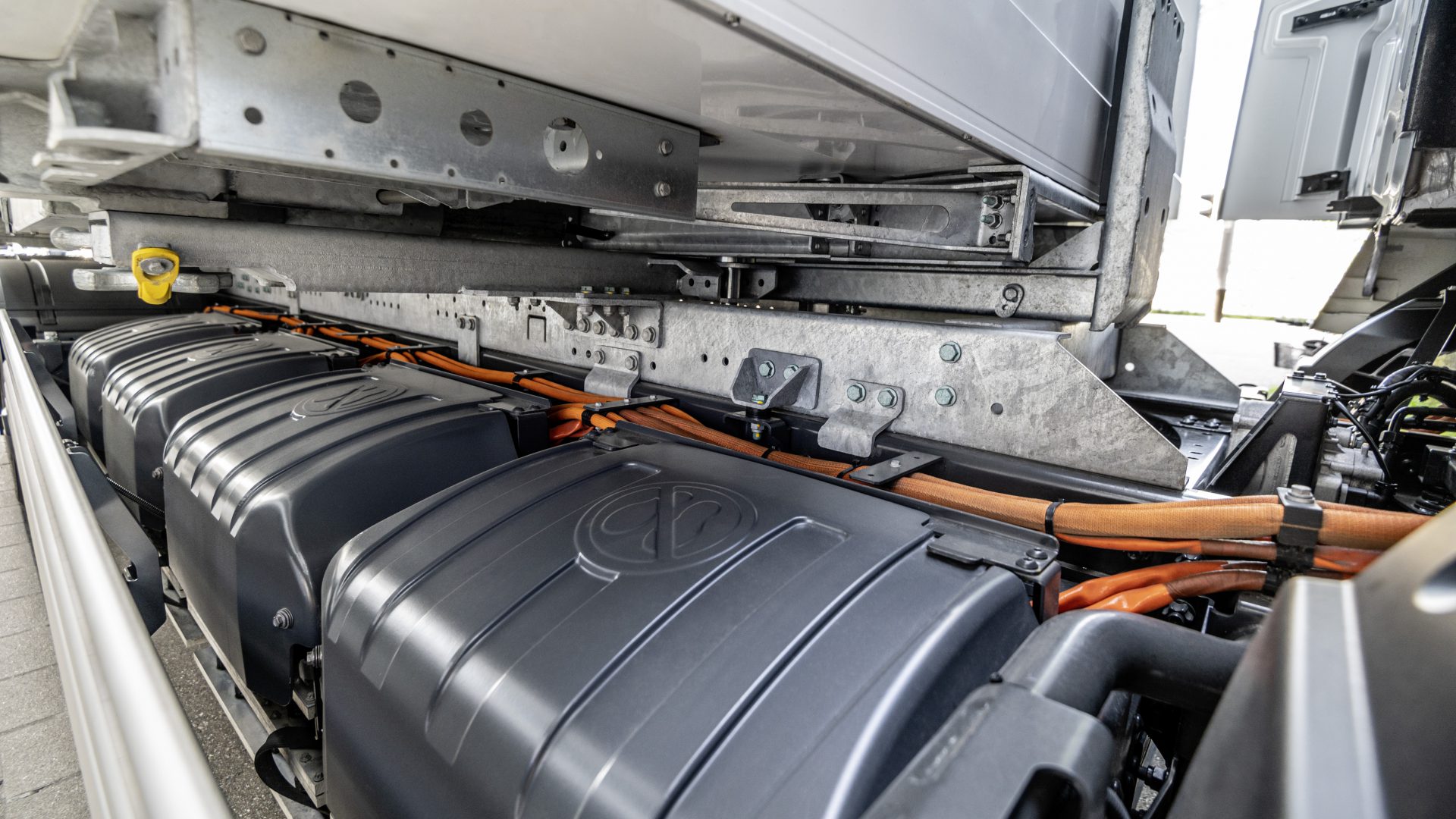 Depending on the version, the eActros draws its power from three or four battery packs, each with a capacity of around 105 kWh. Thanks to a maximum capacity of 420 kWh, a range of up to 400 kilometres is realistic. The eActros can be charged with up to 160 kW. So, when connected to a regular 400A DC charging station, the three battery packs need a little longer than 1 hour to charge from 20 to 80 percent.
Manufacturing in Wörth and further developments
In the Wörth plant, Mercedes-Benz Trucks has established a specific high-voltage organisational structure, with experts undertaking a special qualification at the location's own training centre to enable them to work on the eActros.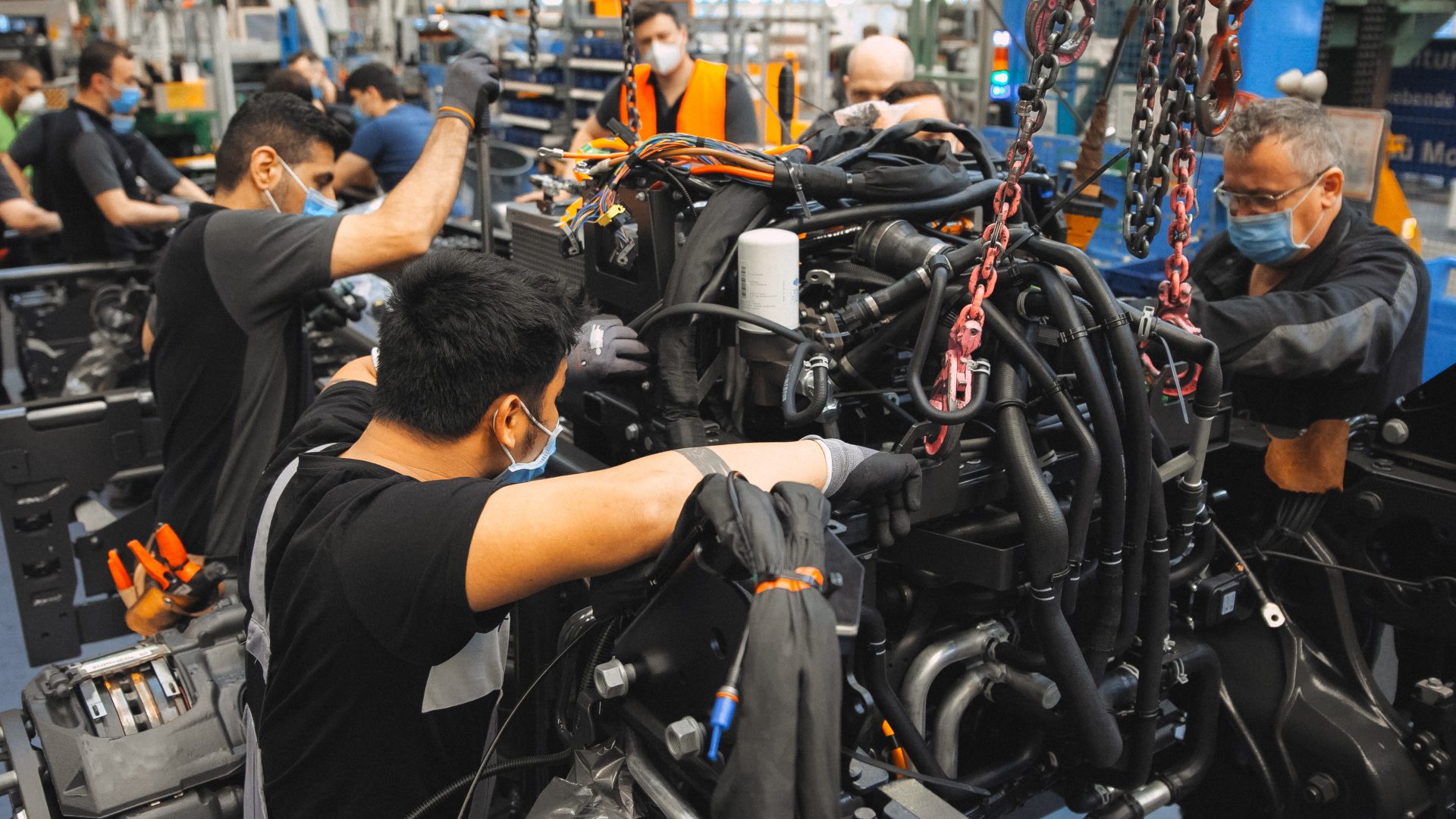 In the assembly hall, the electric truck models are manufactured flexibly alongside trucks with a conventional drive system. In essence, the manufacturing of different vehicle types should take place in as integrated a manner as possible, and the basic structure of the vehicle should be made on a single production line, regardless of whether it is fitted with a conventional combustion engine or an electric drivetrain.
Further steps for long-distance haulage are also in the pipeline: series production of the low-floor Mercedes-Benz eEconic truck is expected to start in 2022. In addition to this, the battery-electric eActros LongHaul is expected to be launched in 2024 and the GenH2 Truck with hydrogen-based fuel cell will come in the second half of this decade.