Renault Trucks Z.E. electric range got an award for technical excellence in the UK
In addition to the Technical Excellence Award, Renault Trucks received a Gold rating by the independent Ecovadis body for its commitment to Corporate Social Responsibility.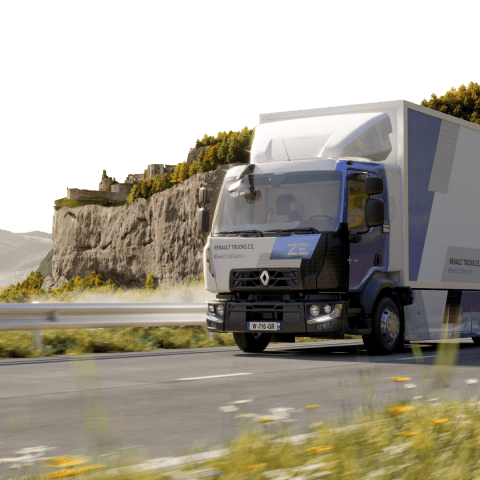 The fully electric Renault Trucks Z.E. range has won the 'Technical Excellence Award' at the 2021 Motor Transport Awards, an event held in the UK. The award recognizes the vehicle manufacturer that has demonstrated the best technical solutions to meet their customers' operational needs. The electric truck range of urban Renault e-vehicles was recently enhanced with the Low Entry Cab version, now available in Europe. Additionally, 20 e-trucks belonging to this range have been delivered to a major Swiss brewery.
Renault Trucks Z.E. range is contributing to boost electric sales
From 2023, an all-electric Renault Trucks offer will be available for all sectors, namely distribution, construction and long distance, with preparations underway to market a Z.E. tractor unit. The manufacturer has committed that 10% of its total sales (vehicles over 12 tons) will be electric by the end of 2025, rising to 35% in 2030 and by 2040, all its vehicle ranges will be 100% fossil-free.
Receiving the award, Carlos Rodrigues, Managing Director Renault Trucks UK & Ireland said: «Renault Trucks has championed the zero emission journey for the UK transport industry, so to be recognised with the Motor Transport Technical Excellence Award for our Z.E. range is hugely exciting. The move to zero carbon solutions is the single most significant change in our industry and will benefit everyone in society. For Renault Trucks to be recognised, not just for the technical excellence of our Master Z.E. and D Z.E. models, but also our collaborative approach to the transformation is very satisfying».
Gold rating by Ecovadis
In addition to the aforementioned award, Renault Trucks been awarded a Gold rating by the independent Ecovadis body for its commitment to Corporate Social Responsibility. For the third year running, Renault Trucks has achieved Gold status. Ecovadis evaluated 75,000 international companies according to 21 criteria divided into four categories: Labour & Human Rights, Sustainable Procurement, Business Ethics and the Environment.