IAA Transportation, live from Hannover. What's new in the truck sector: our report
At IAA Transportation 2022 in Hannover, truck manufacturers unveiled several major innovations. The German trade show officially opened its doors on September 20 until September 25. Here's just a glimpse of what we saw at the show. Stay tuned: more will come in the next few days!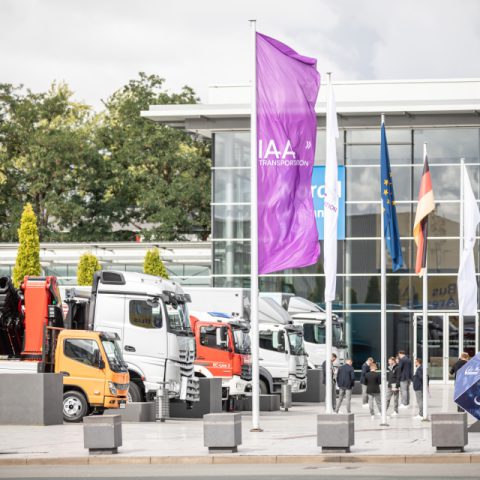 At IAA Transportation 2022 in Hannover, truck manufacturers unveiled several major innovations. The German trade show officially opened its doors on September 20 until September 25. Here's just a glimpse of what we saw at the show. Stay tuned: more will come in the next few days!
IVECO had announced it on several occasions, even offering a few glimpses during the Beyond Iveco Group international event held in July: the electric Daily was finally unveiled. Apparently, with only slight differences from its ICE sibling, but hiding a completely revised powertrain. No change in load capacity, nor creativity in the choice of possible fittings. The electric motor now provides a maximum output of 190 hp, with 400 Nm torque and a top speed of 120 km/h. The One Pedal Drive mode converts kinetic energy from the brakes into electricity while reducing brake pad wear. The batteries have a modular configuration (the customer can choose how many packs to install, up to 3) for a range of up to 400 km. FPT Industrial and Microvast took care of the development of the batteries. IVECO also announced the signing of an MoU with Petit Forestier for the supply of 2,000 eDaily.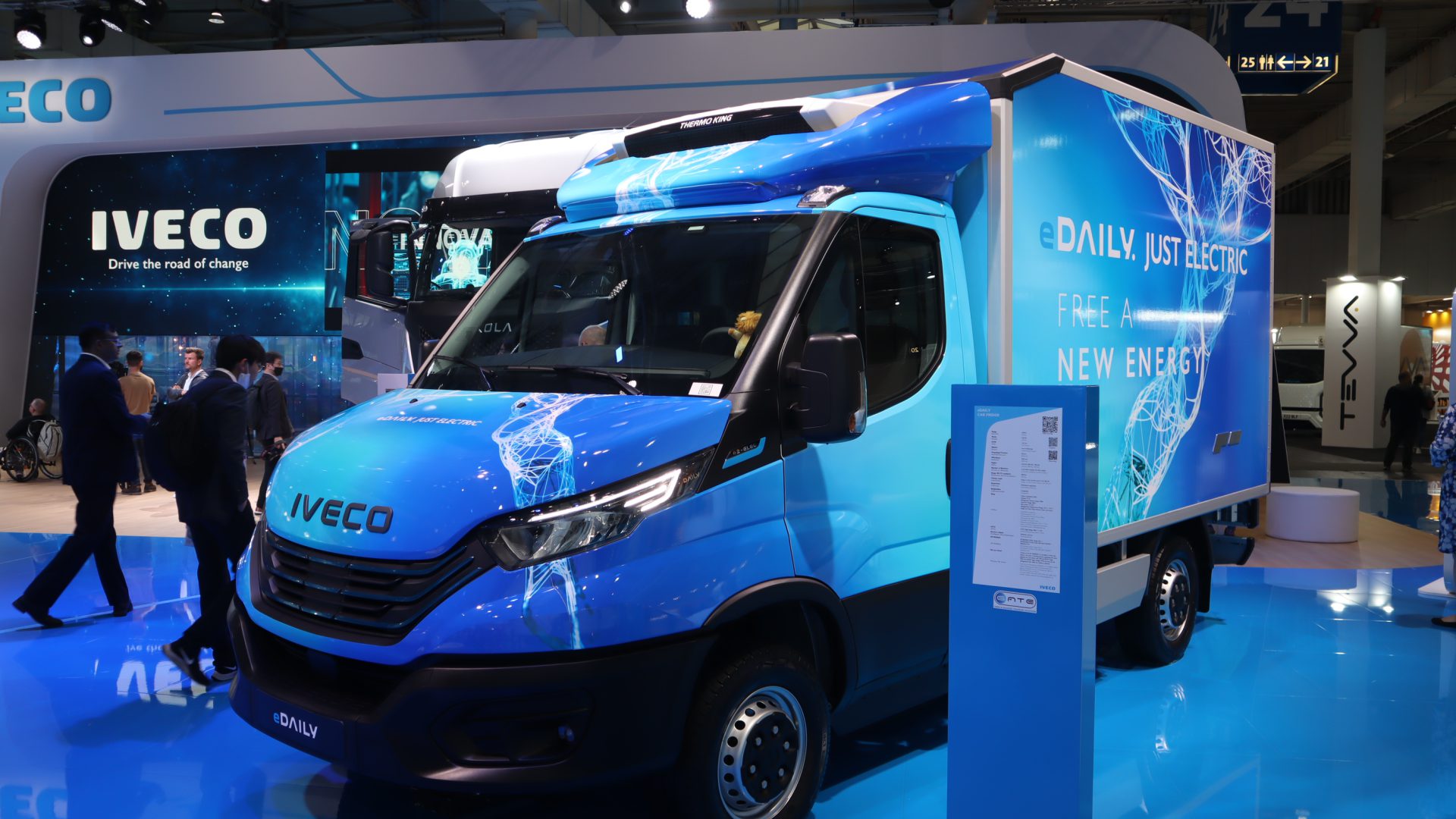 IAA Transportation 2022: IVECO in Hannover with Hyundai
At the IVECO booth we also saw the futuristic version of the 90 kW hydrogen-powered FCEV Daily with a 140 kW Hyundai electric motor. This is, in fact, a collaboration with Hyundai Motor Company, also announced earlier, which we will talk about soon more into details. Range expected, in this case, is around 350 kmon a 15-minute "fill-up". IVECO's stand at IAA Transportation was shared with its now proven partner Nikola: the BEV and FCEV truck manufacturer showcased some examples of the Nikola Tre: 4×2 for the European market in full electric version and 6×2 – also for the European market – with fuel cells (the latter case is indeed a prototype).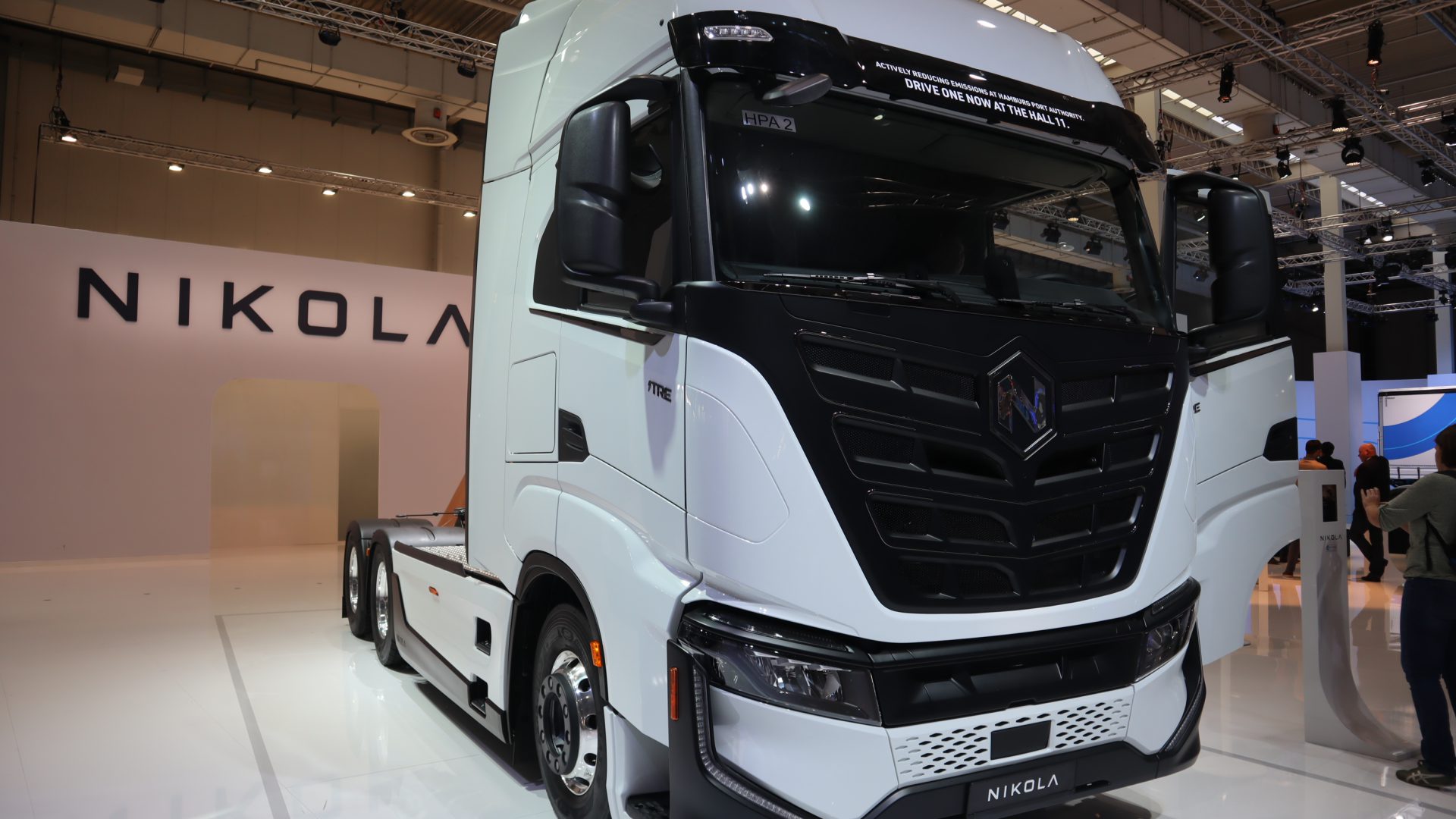 DAF: the new XD truck and many electric novelties
Quite impressive presentations also took place at the DAF booth, with the long-awaited XD distribution truck that completes the New Generation range and is ready for alternative fuels. The XD truck, currently available with an ICE, also won the Truck of the Year 2023. Lowered cab position, extended windshield, standard LED lights and Corner View, improved aerodynamics are among the main features of the vehicle equipped with an optimized Paccar MX-11 diesel engine. Also new in the electric range, with full electric versions of XD and XF in production at a dedicated plant from early 2023. Finally, DAF's XD and XF models were also launched with the addition of a "C" and raised access for off-road use (construction).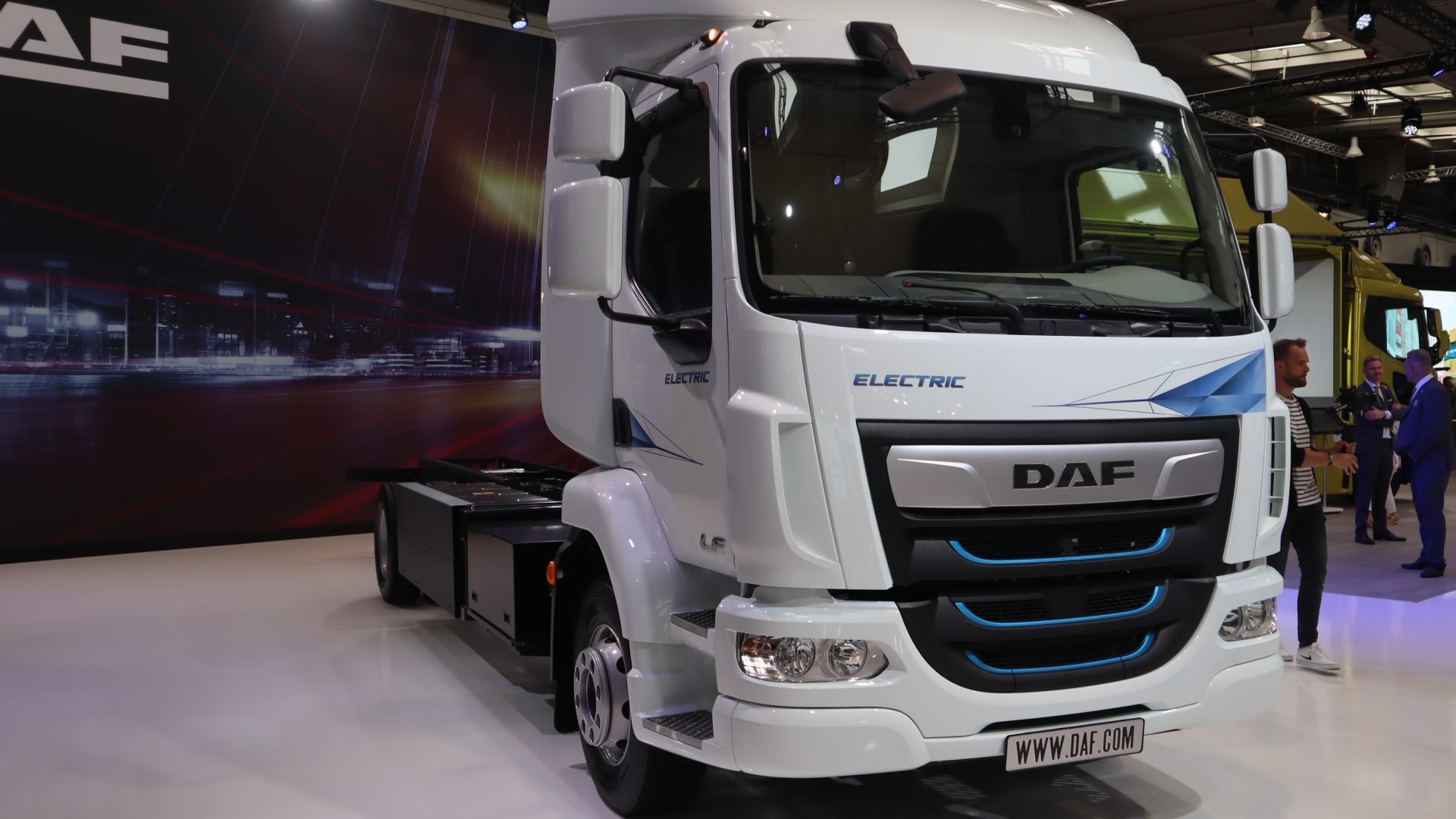 Mercedes-Benz: the eActros LongHaul
We've already talked about Mercedes-Benz Trucks, which unveiled the eActros for long haul as the flagship of its participation at IAA 2022. Similar concept to the distribution eActros introduced last year with a key difference in battery technology, now LFP (lithium iron phosphate) characterized by longer life than the more commonly used NMC batteries. Daimler Truck also presented the evolution of the electrified FUSO Canter: the eCanter, also modular in number of battery packs, was designed specifically for last mile delivery, with a range of up to 200 km.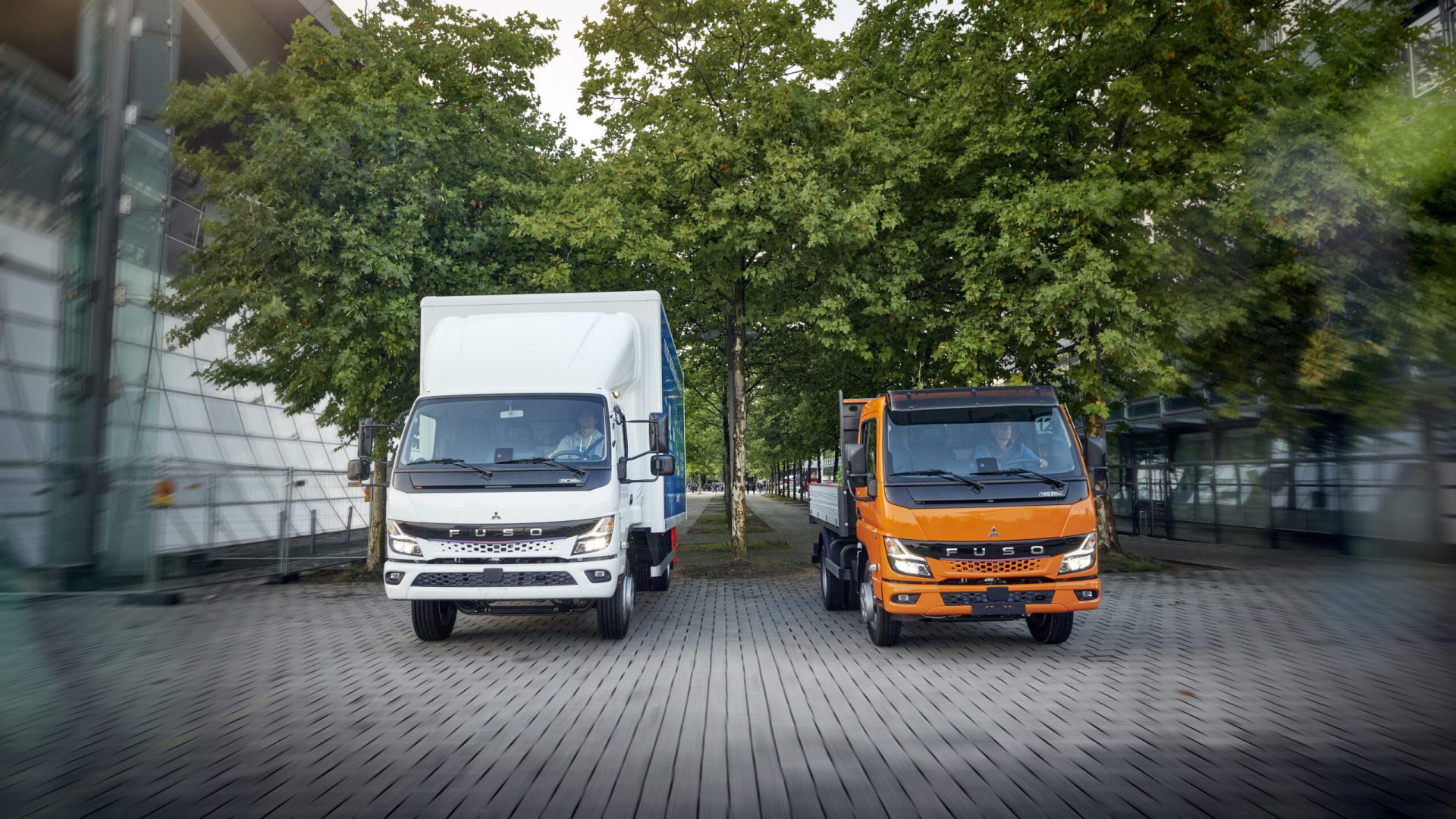 Scania and the new electric trucks at IAA Transportation
Scania continued on the path of electrification already mapped out in recent years and debuted the new full electric tractor for regional applications with R or S cabs and electric motors with power outputs of 560 hp and 610 hp, ready for so-called megawatt charging, i.e., ultra-fast charging. Autonomy approaching 350 km and impressive battery capacity (625 kWh) are some of the features of the new series, which complements the one intended for mostly urban transport.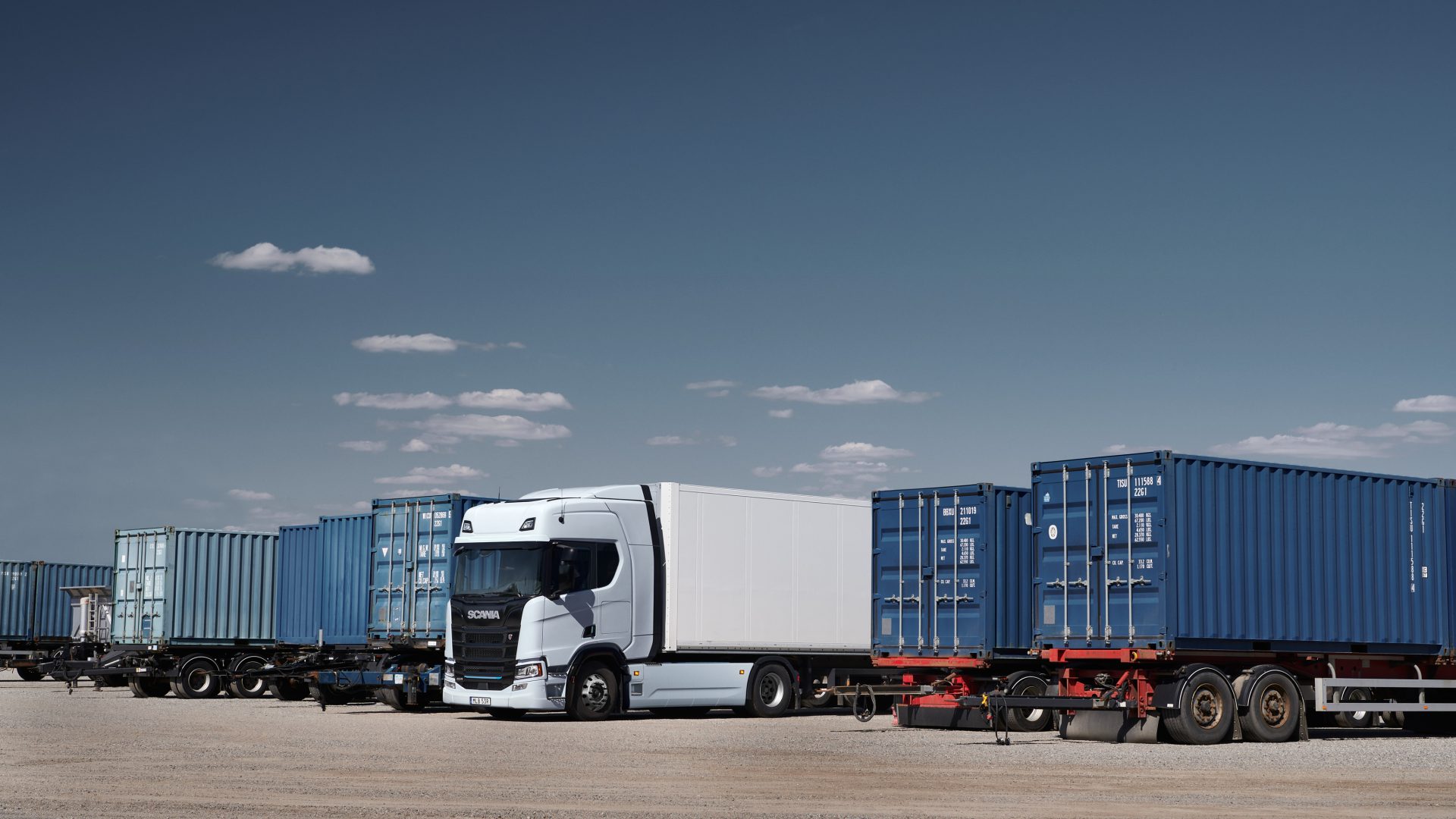 We've seen the brand-new MAN e-prototype!
Neighboring stands (after all, both Scania and MAN belong to the TRATON group), quite similar ideas on electrification: MAN also exhibited for the first time the electric truck prototype unveiled a few months ago now and part of a clear vision that stakes the chips available for the energy transition almost exclusively on full electric, as confirmed by CEO Vlaskamp. At the IAA Transportation, MAN opened orders for the medium- to long-haul electric truck, which promises a range of 600-800 km and will soon benefit from a new battery production factory announced in Nuremberg, while the reorganization of production lines in Munich aims to make room precisely for the electric trucks.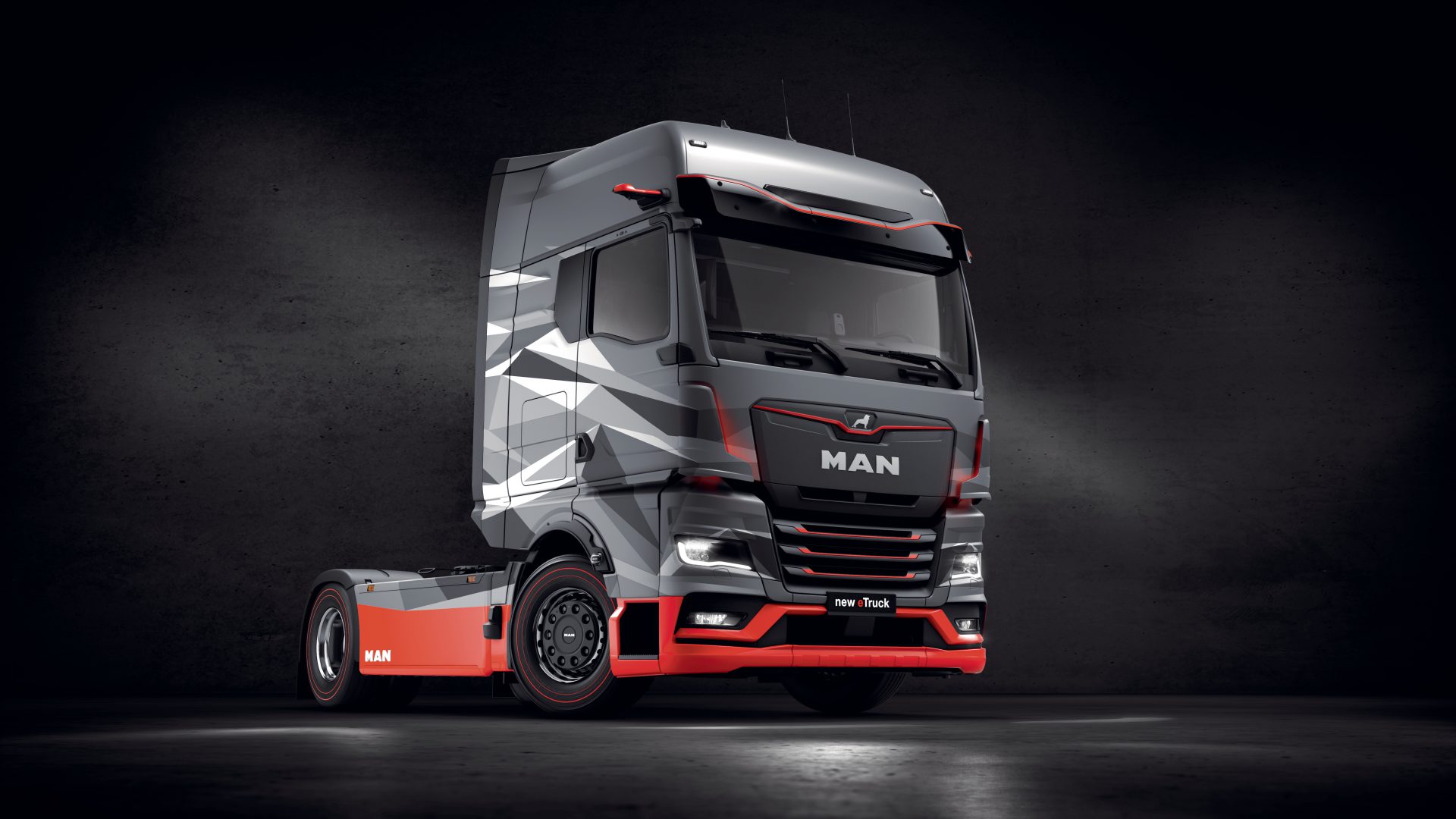 Volvo Trucks to introduce its own e-axle
Volvo Trucks, already relying on quite a large portfolio of electric trucks (mass production of the heavy-duty ones has recently begun), confirmed the path of experimentation that will lead toward the use of hydrogen, with the first customer tests scheduled as early as 2025. The Swedish truck maker also unveiled an electrified axle intended for BEV and FCEV trucks that will allow for greater design freedom and, more importantly, for more space to house battery packs, which will result in higher vehicle range.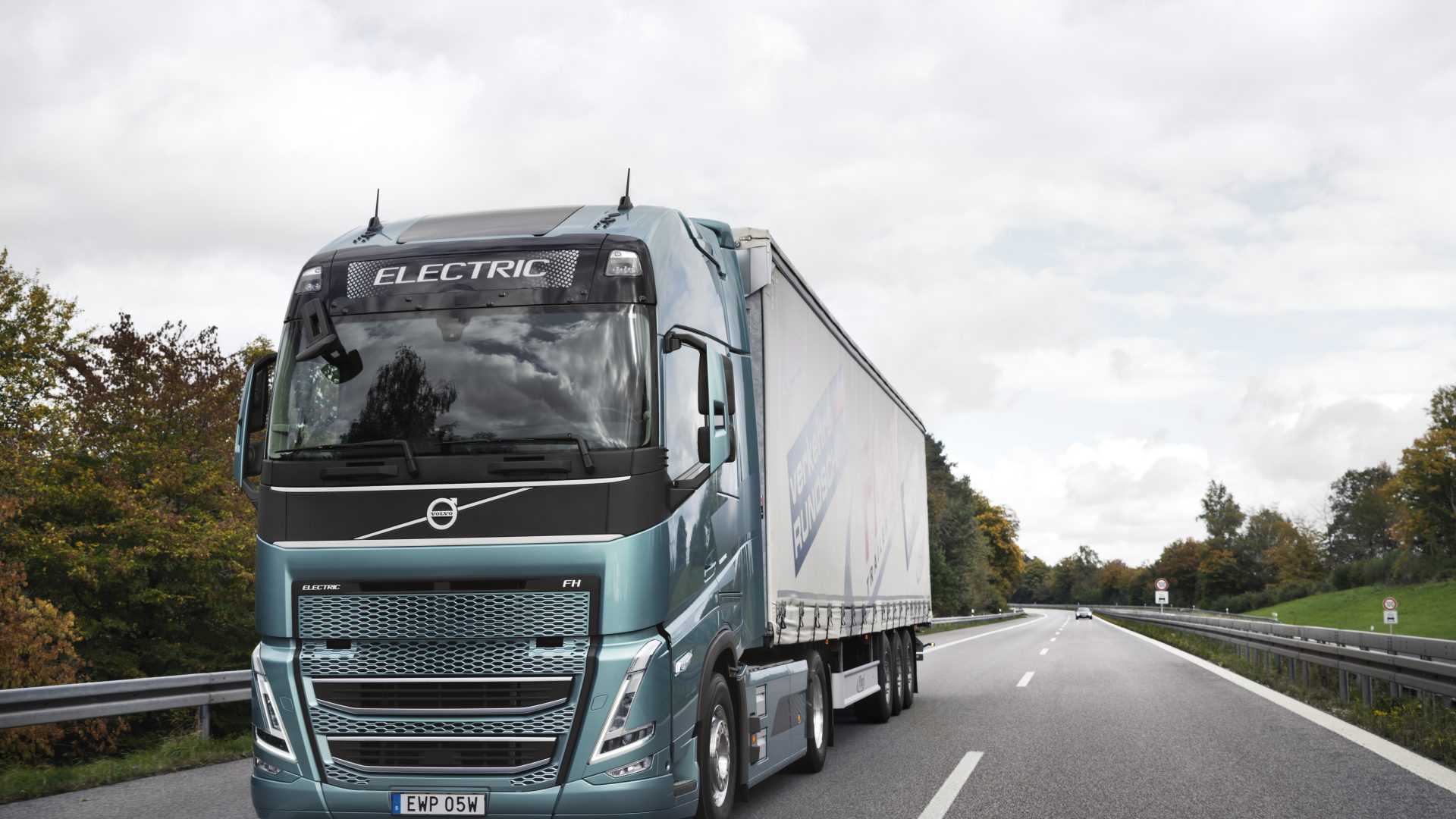 Ford Trucks gets electric, too
Ford Trucks has also come out of the closet and unveiled its first electric truck prototype: it is a vehicle with a futuristic design and set up in Hannover in a waste collection configuration with 392 kWh batteries and a load capacity of up to 26 tons. The batteries are provided by Akasol and the very first trucks will be produced in Turkey from 2024 onwards. Ford Trucks also announced plans to achieve 50 percent of its sales in Europe only with electric trucks by the end of this decade.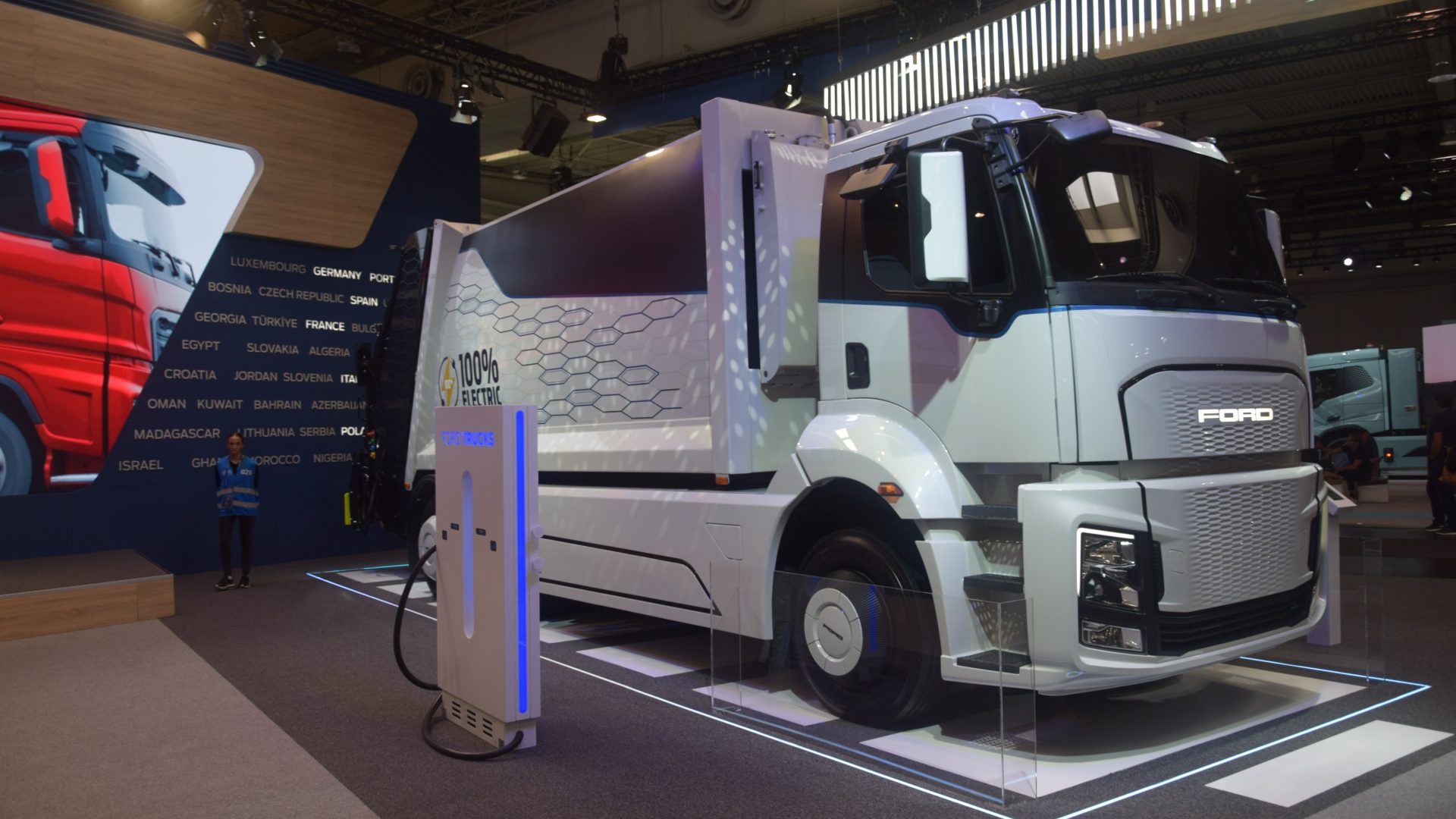 Quantron makes its moves at IAA Transportation
IAA Transportation 2022 was a golden opportunity for Quantron, the German spin-off manufacturer of the Haller Group that is pushing hard on both electric trucks and fuel cell models. It is not a coincidence that Quantron's investors include Ballard Power System, a leading name in fuel cell manufacturing. Quantron unveiled in Hanover a light truck (the QLI) with GVW between 3.5 3 7.2 tons available in both full electric and FCEV versions, but more importantly the heavy QHM, also in battery and fuel cell versions. Quantron has promised availability of the vehicle-with a total mass of 44 tons for most markets and even greater payload for Scandinavian markets-by next year: range between 600 and 700 kilometers in the FCEV version equipped with the latest generation of Ballard fuel cells, as well as Allison's eGen Power 130 D electrified axle. The tank integrated into the chassis can hold up to 54 kgof hydrogen. The truck in the same configuration is also available in a smaller 27-ton version.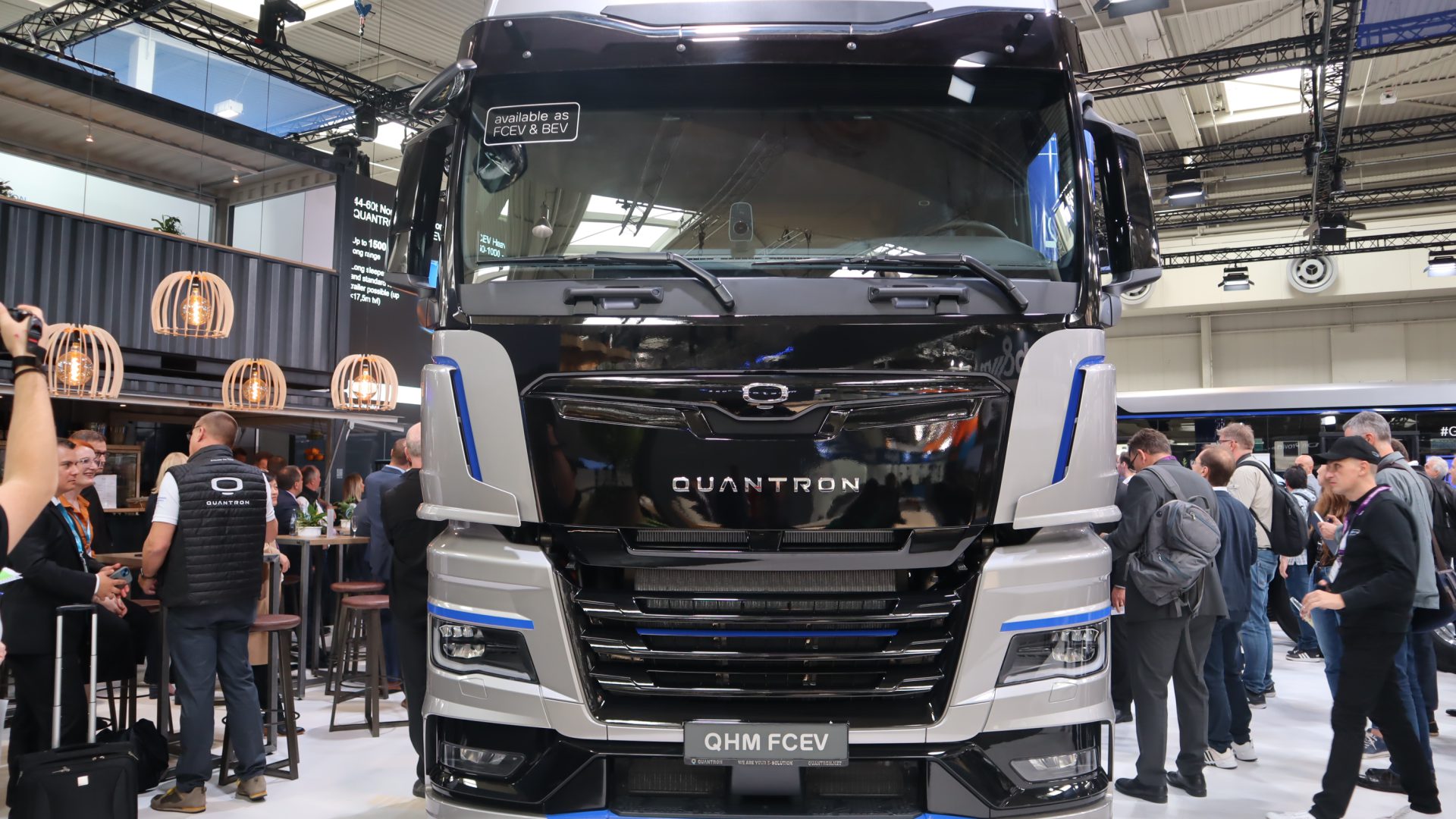 Volta Trucks and Tevva
The IAA exhibition also hosted a trade show premiere with a dedicated booth by Volta Trucks, which showcased the Volta Zero just days after the company announced the start of mass production of the electric truck at its Steyr, Austria, production site. And the German event itself featured another new electric (and hydrogen) truck manufacturer, Tevva. The Brits brought to the booth the 7.5-ton with several setups, as well as the prototype of the new 19-ton hydrogen truck with an expected range of about 500 km and recharge made possible in just 10 minutes. Tevva has started production of the 7.5-ton truck in the United Kingdom and is firmly targeting Europe at first and the United States later.